22-23 September 2012
Attendance 4:
First job of the day for Adam and Jason was to move the wheel sets outside. Once they were moved Adam and Jason made a start on drelling off the last bits of the equalising beams, parts hadn't been drelled due to them being turned upside down for painting. Following a quick wipe down they were given a coat of green primer. While this was going on Dave and Malc offered their assistance and joined in painting the equalising beams.
Jason and Adam made a start on what turned out to be a monster needle gunning session which took up most of the rest of the weekend. Adam made a start needle gunning the two axle covers and then moved over to join Jason on needle gunning the wheel sets. Malc and Dave made a start on applying a coat of Gloss Black paint to the bogie frame. This kept everyone busy for a few hours…..
By middle of the afternoon a couple of the wheels were ready for a coat of primer so Jason applied the paint. This didn't take long at all with a roller. Dave applied a coat of grey undercoat to one of the equalling beams on an area that had previously been paint in primer. Malc finished off painting the bogie frame getting some of the hard to reach areas. Adam continued on needle gunning one of the wheels.
Once Jason had finished painting the wheels he moved onto dismantling the smaller traction motor linkages ready for needle gunning. Adam and Jason then spent the rest of the afternoon needle gunning, drelling and then painting the small traction motor linkages, axle covers and the wheel sets. And this brought the day to a close…..
Sunday 23 rd September
Attendance 3:
Adam and Jason started the day by giving the equalising beams, large traction motor linkages, bolster hangers, axle covers and the two wheels needle gunned the previous day a coat of grey undercoat. They then and went out and had a run out behind the 24 and one of the Deltics…..
When they returned close to lunchtime Rob Mason has arrived. Jason and Rob spent most of the afternoon needle gunning and drelling the last of the wheels ready for painting. Adam spent the afternoon applying undercoat to the small traction motor linkages and applying black gloss to one of the equalising beams. Then green primer was applied to the freshly prepared wheels and that brought the weekend to an end. A lot has been completed this weekend, now it's just a case of getting plenty of coats of black gloss on everything……
If you wish to lend a hand please contact Chris Tatton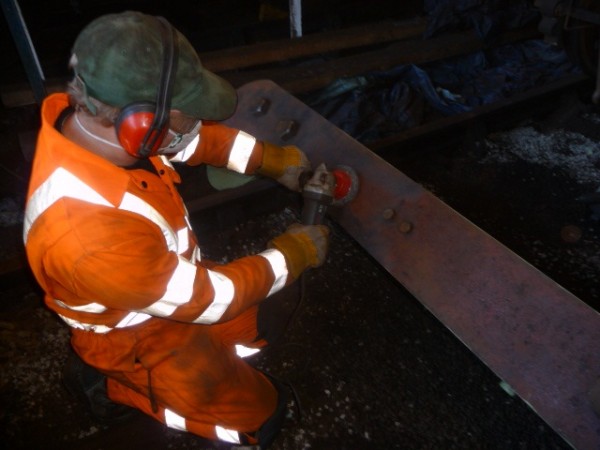 Above : Jason drelling one of the equalising beams.

© C15PS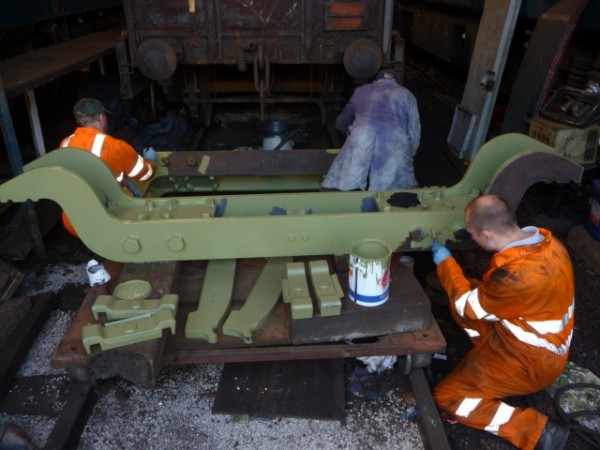 Above : Jason, Malc and Dave painting the equalising beams in primer.

© C15PS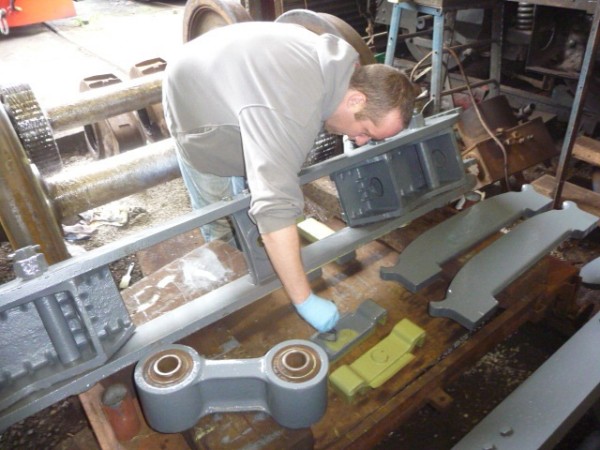 Above : Adam painting some of the many parts in undercoat.

© C15PS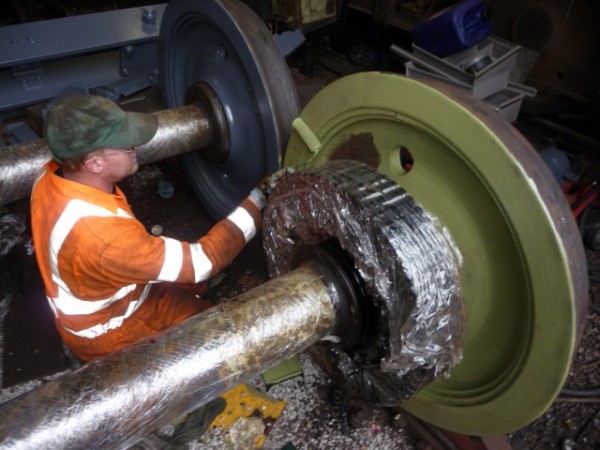 Above : Jason painting one of the prepared wheels.

© C15PS
Fancy Getting Involved? click on the You Can Help page