17 - 18 November 2012
Saturday 17th November
Attendance 5:
The day started off with turning the central bolster from the Bo bogie upside down so that it could be needle gunned underneath. Once the bolster was turned upside down and two needle guns were set up Steve and Gary set about removing all of the old paint and rust.
Meanwhile Adam and Jason made a start on prepping all the bogie parts that were already in black gloss by flatting down the paint work. Once everything was flattened down they made a start to painting everything from the wheels and equalising beams to the bogie frame. They were joined at lunchtime by Clive.
After lunch Steve having finished the needle gunning with Gary moved over to working on the Western with Matt Lindley. Gary moved onto drelling the bolster to clean it up. As the bolster is very heavy this involved Gary moving turning the bolster over with an overhead crane. Once the drelling was completed Gary gave the bolster a coat of green primer paint.
Meanwhile the Adam, Jason and Clive were continuing on with the painting marathon. They spent the rest of the afternoon painting everything and by the late afternoon they were finished so cleaned up all of the brushes. Gary had also finished painting the bolster in the primer. It wasn't the most exciting of days but these jobs need to be done, and it's all good practise for when the overhaul of the Co bogie starts.
Sunday 18 th November
Attendance 2:
Even though it was a CoBo working weekend Ernest (Class 14 D9531 see www.d9531.com ) required maintenance work carrying out on it so everyone moved onto working on that. However Jason and Clive had time to give the bolster a coat of undercoat. This will allow a couple of coats of black gloss paint to be applied at the next working weekend. With that work on the CoBo bogie came to a close for another weekend….
If you wish to lend a hand please contact Chris Tatton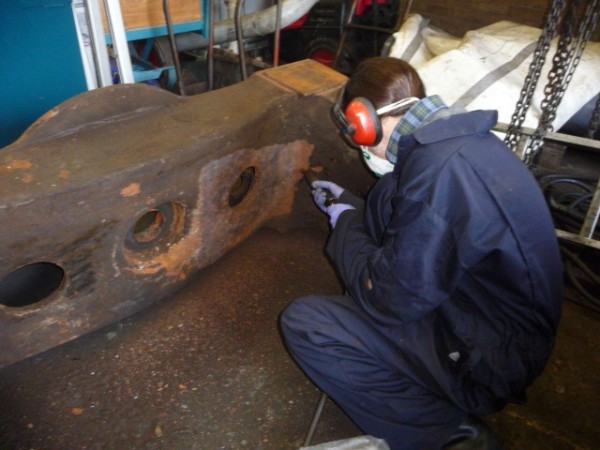 Above : Steve making a start on needle gunning the bolster.

© C15PS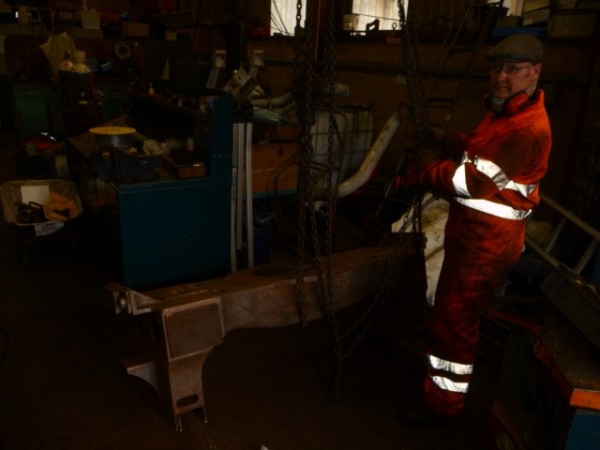 Above : Gary maneuvering the bolster so he can get to the underneath of it as its presently the correct way up.
© C15PS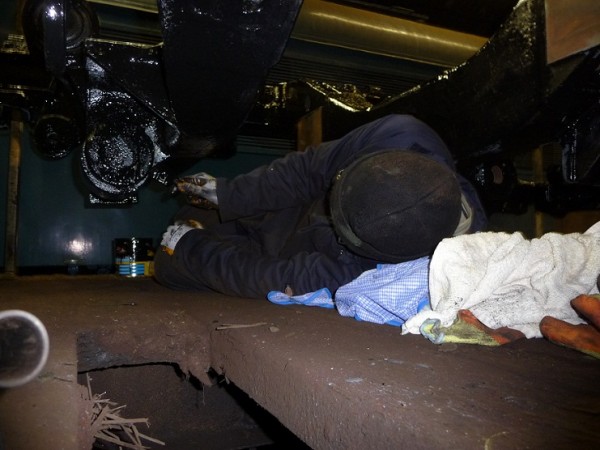 Above : Jason painting the underneath of the bogie frame.

© C15PS
Above : The bolster in a coat of green primer. The areas not painted are all rubbing plates, areas that come into contact with the bogie frame or other moving parts.

© C15PS
Fancy Getting Involved? click on the You Can Help page