8 - 10 July 2016
On behalf of the committee, I would like to thank everyone who took the time to visit D5705 in the bay platform at Bury Bolton Street this weekend. We were overwhelmed by the support shown for this unique loco and apologise if we didn't get around to answering all of your queries. Your donations have topped over £200, which is a massive help towards getting this loco running again.
We would also like to thank the East Lancashire Railway for accommodating us at t he Gala and for shunting it into position for the weekend. Without their help we would have struggled to get time to do it, what a lovely bunch of lads and lasses.
Finally, I would like to extend my thanks to the volunteers who assisted Adam and myself this weekend: Timothy , David , Dave , Sterling , Andrew , Tom , Ewan , Ian , and the staff at the Standard 4 shop for helping to relocate their shop sign.
Rob Mason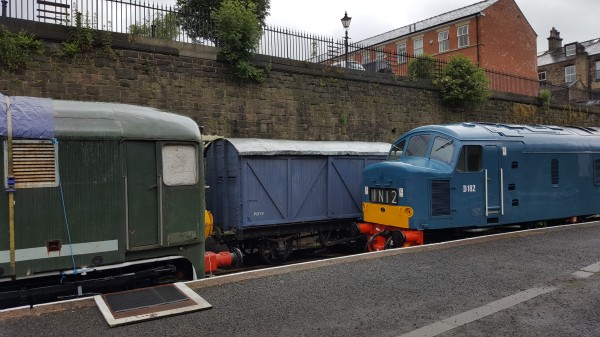 Above : D5705 and D182.

© C15PS
Above : Volunteers in moody band shot pose.

© C15PS
Fancy Getting Involved? click on the You Can Help page