November 2017
Further progress has been made on returning the CoBo to an operational state. The Crossley V12 engine that was acquired for spares has been placed into the works at Baron Street and this is in progress of being stripped down. The pistons have been lifted out and the liners have been readied to be lifted out. These generally seem to be in good condition and potentially will be used in the V8. Once the liners have been removed then attention will be turned to removing the crank bearings. Once the V12 has been completely stripped then attention will move onto readying the V8 for final stripping prior to it being rebuilt.
On the electrical front the Load Reg was fully stripped down, the bearings replaced and all the finger contacts stripped down, cleaned up and reassembled. Then the whole of the Load Reg was reassembled and then time was spent setting it up correctly as once it has been refitted in the loco it was be hard to gain access so it was felt spend more time on it now would make our lives much easier. Further electrical boards have been overhauled including the overload relay board for Traction Motors 1, 4 and 5. The 2nd Overload Relay board for the Earth Fault Relay and Traction Motors 2 and 3 has been stripped down ready for fettling. It is hoped that the last of the boards will be finished over the winter period and once done a weekend will be spent refitting them all back into the loco.
Also during the summer one board of 8 Contactors that controlled various motors within the loco was taken away by one of the volunteers and was overhauled and this is ready to be refitted, the 2nd board of 8 Contactors has been taken off site and is nearing completion of its overhaul. The 2nd board controls things like the cooler fans, blowers and Main pumps.
Within the loco the opportunity has been taken to refit the Radiator Elements back into the loco. These have been fitted and it's another step closer to completing the water systems. All is needed is the final water pump to be reassembled and then the water system will be complete apart from the flexible pipes that connect to the engine.
With all of the engine and electrical work going on the bodywork has taken a bit of a back seat but once we get to a point where there is spare resource then a return to the bodywork will be made.
If you are interested in helping out please contact David Jenkins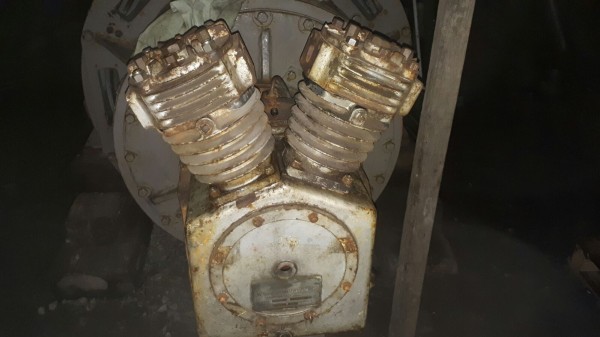 Above : Rebuilt, temporarily of the compressor on the Crossley generator.

© C15PS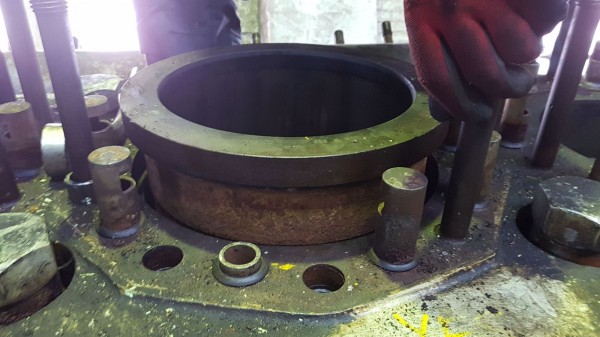 Above : Piston liners putting up a fight.

© C15PS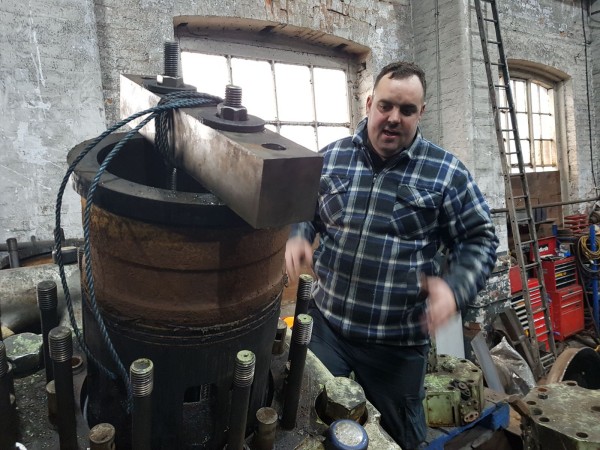 Above : First of the piston liners becoming air borne.

© C15PS
Fancy Getting Involved? click on the You Can Help page