22 & 23 April 2006
Saturday 22nd. A good turn out from members of the C15PS for this mini working day, seven in total. The team carried on where we had left off at the last working weekend, by contiuing removing pipework, conduit etc for the cooler group compartments and the engine compartment.

Both Cooler group top and bottom header tanks were removed along with the side frames for each unit, the header tanks will now be flushed out, pressure tested to ensure there are no leaks that need a welding repair, then needle gunned & painted, ready for refitting. Both Radiator luvre units were removed, these will need stripping down, each luvre will be cleaned up from rust etc and painted, then each unit put back together ensuring it is well lubricated to ensure free movement.

The left hand Cooler group side frame was then removed, this house's the Radiator luvre units, although this unit is very rusty, a start was made needle gunning it and attacking it with a wire wheel to see how it would clean up, the result was very encouraging, although the metal work is quite pitted, it hasnt actually rusted through. Also in the cooler group the two main conduit runs that come from the generator compartment, through the engine compartment and into the cooler group were also removed.

The cooler group compartment is near enough stripped out now, all that remains is the right hand side unit and some conduit on the right hand side, first job on the next working w/e will be to remove these items, then the stripping out of this compartment will be complete. Its then a big de greasing and getting rid of the crud session in here, ready for needle gunning, wire wheeling and finally painting. This compartment will be the first to be rebuilt, so a start will also be made on cleaning up and repairing/renewing/ painting the pipework, conduit and other items that live in the cooler group Compartment.

In the engine room compartment, more conduit and pipework was removed, pressure switches and the load regulator was also removed. Ready for renovation and also getting ready for when the power unit and generator set to be lifted out at a future date. All in all, a great mini's day work and for once the Bury climate was rather kind.
Sunday 23rd Today the couple of members who were able to attend carried on stripping out the engine compartment with the removal of more conduit runs, fire pipe and air pipes. A start was also made on de-greasing and scrapping the crud from the cooler group to engine room bulkhead, once alot of the oily ming had been removed it was found to be in quite good condition. Once fully degreased as much as we can, the use of a jet wash will be employed to give it all one final blast off before needle gunning, wire wheeling back to bear metal, then priming, undercoating and glossing. Ideally we could do with steam cleaning it, but we do not have the available funds to spend on a steam cleaner at present.
Photos of the work are below.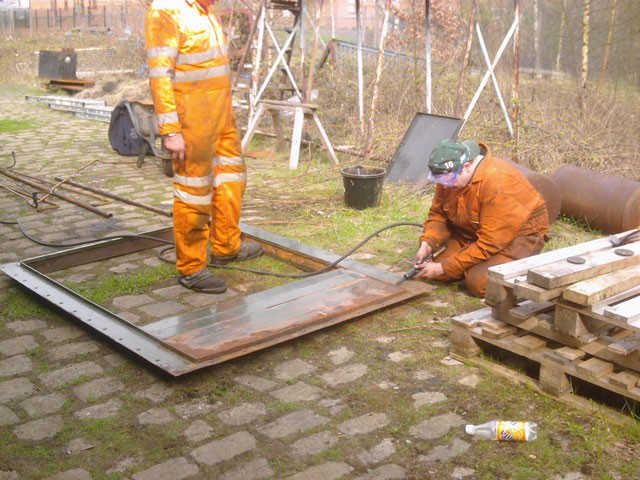 Above : The radiator shutters are dismantled

© C15PS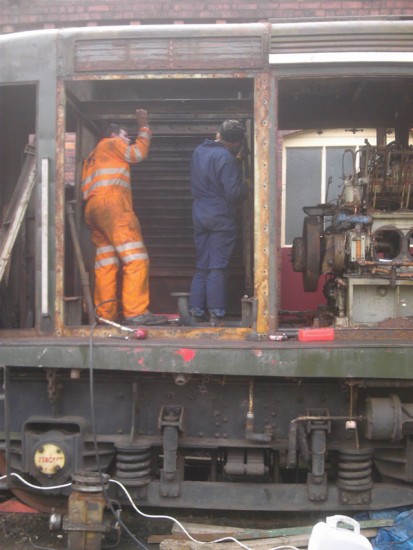 Above : Most equipment has now been removed from the radiator and fan compartment

© C15PS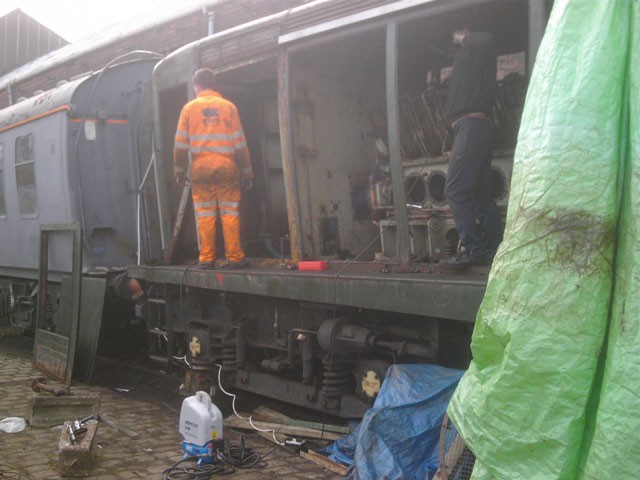 Above : D8233 slowly comes apart
© C15PS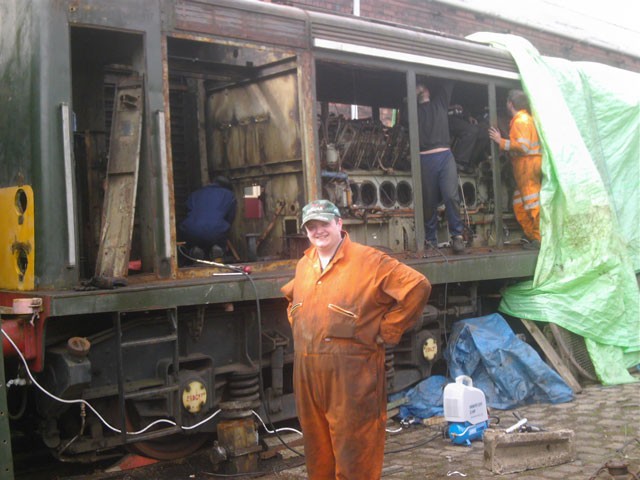 Above : A pleased looking Mr Baily
© C15PS
Fancy Getting Involved? click on the You Can Help page