23/24 September 2006
Saturday 23 September. Today we started the renovation of No1 end compartment. The shot blaster was put into service and a start made on blasting the compartment walls. This compartment is quite rusty and heavily pitted, mainly due to the doors being half open for all those years, the rain just came in. We managed to get the roof of the compartment blasted of all paint (what was remaining) and rust, it took quite alot of work with the blaster due to it being so pitted.
In the coach, some cooler group oil pipes were given a coat of salmon pink ready for refitting, the internal door was glossed with light grey, 2 of the cooler group tanks were undercoated ready for glossing. A 3rd tank was also cleaned up and wirewheeled ready for priming. Also sitting in the coach now is the overhauled fan gearbox that went away for repairs at solutions engineering. It has had 2 new bevel gears made and machined, a new input shaft made and machined, and a set of new bearings, in fact it only seems the casing and oil pump that is original!
The next item that will be sent away for repair is the radiator fan itself, once funds have swelled a bit more after the purchase of the Paxman unit.
Sunday 24 September. The mission today was again more shot blasting in No1 end and more cooler group part renovation. The shot blaster though wasnt up for it as it was the previous day, so time and effort was wasted trying to get it work something like. However a few more panels were blasted ready for priming.
In the coach, radiator tank renovation continued with all the studs being removed and cleaned up on the wirewheel. the threads in the tanks were given a tap out to clean threads up and gasket faces cleaned back to shiny metal. The 3rd tank was also painted with primer.
As the day was drawing to a close, the decision was taken to stop blasting, clean up the used shot and then prime what was ready, this being the roof and part of the front. In the cooler group compartment, the light grey gloss was caught up on a few areas that still had under coat on. Then a coat of special black floor paint was applied to....yep you have guessed it the floor! The painting is now complete in this compartment, already to have its internals refitted. And I must say it looks very dapper and well worth the effort everyone has put into it.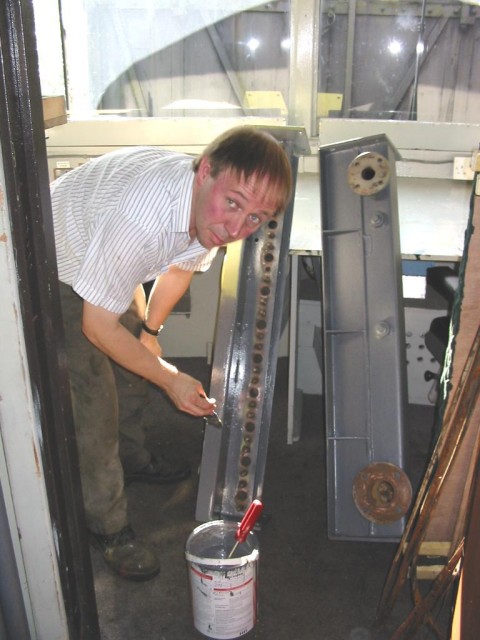 Above : Surprise visitor Chris Guntripp came down to assist with radiator tank painting.
© C15PS
Above : Another radiator tank has been cleaned back to bare metal ready for painting.
© C15PS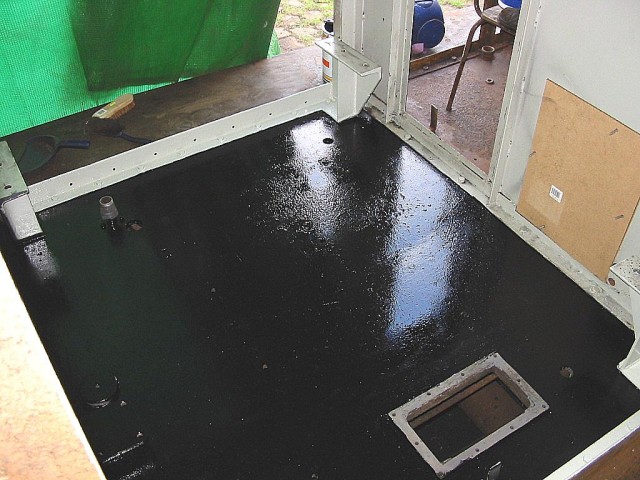 Above : Finally the floor of the cooler group gets its top coat of special floor paint.
© C15PS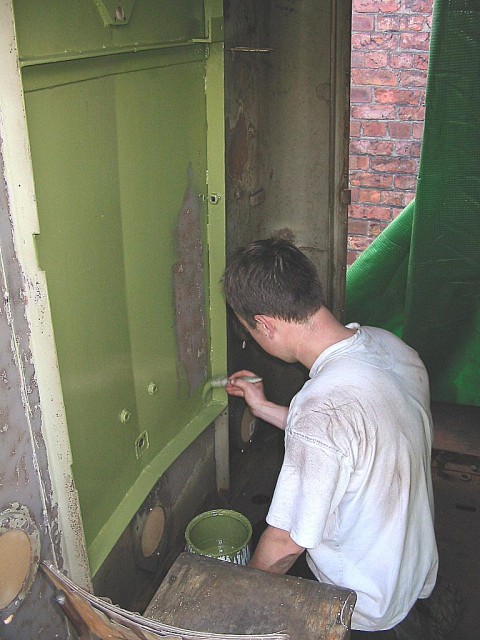 Above : After shotblasting the nose end is ready to paint, Chris Tatton starts things off.
© C15PS
Fancy Getting Involved? click on the You Can Help page