3/4 February 2007
Saturday 3 February. Work started at around 9, with Jason, Matt H, Tim and DENNIS followed by Chris and Ritchie at about 10. The Gloucester "Five!!"(with new volunteer!!) and new volunteer Danny arrived shortly after.
After a quick shuffle of cooler group parts in the Nose end of the coach, attention turned to the damaged tarpaulin, being as the ripped eye holes were on one side only we decided to go with Jasons idea and turn the tarp through 180 degrees so that the damaged side now has the protection of the works wall. We took advantage of the sunny weather and decided to completely remove the tarp, the first time in a while!!, and spread it out flat on the floor for repairs.
Due to the site around the class 15 being cleared for part of the Carillion contract we were requested to move of our parts that we had stored at the end of the siding. After borrowing Ian Rileys forklift (Cheers Ian!!) we managed to put the Gear cases into the locos cab. The exhausters and the TM bearing shells were put on the locos running board, and the compressor was placed into the 4ft at the north end of the loco.
After this the Locos Tarp was lifted back on and secured as best as possible. Meanwhile inside the coach more work was done cleaning up the cooler group components.
Sunday 4 February.
Work started around 9ish there was a total of 4 working members present, the rest of the group had the pleasureable (yeah right!) task of undertaking the ELR basic safety course.
Wallace started cleaning up the cross braces and the fan drive gearbox stand from the cooler group, Simon was busy separating the oil filters from the housing and set about cleaning the housing and more cooler group pipe work, meanwhile Jason was busy working in the loco cleaning up the rear bulkhead in the No1 end compartment ready to be primed. Danny turned up from the Basic saftey course at around 1ish and started priming some of the parts cleaned earlier on in the day. Meanwhile I set about separating the 4 sections of the oil filter housing ready to take to castlecroft for cleaning in the parts washer.
Some photos of the work are below.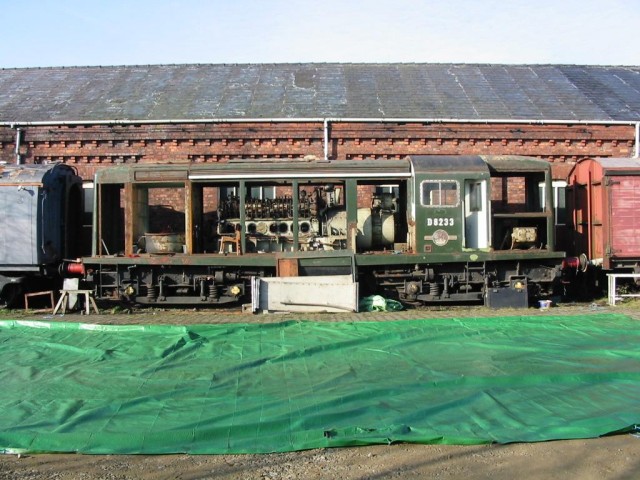 Above : To repair winter storm damage to the tarp it was removed exposing the full loco.

© C15PS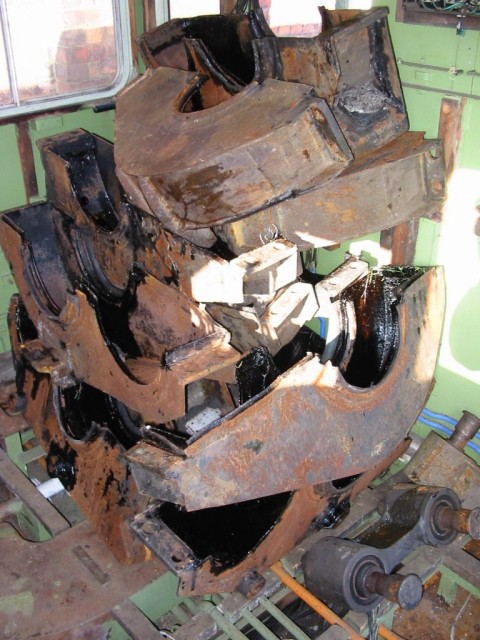 Above : We had to move the traction motor gear cases in to the cab for the time being.

© C15PS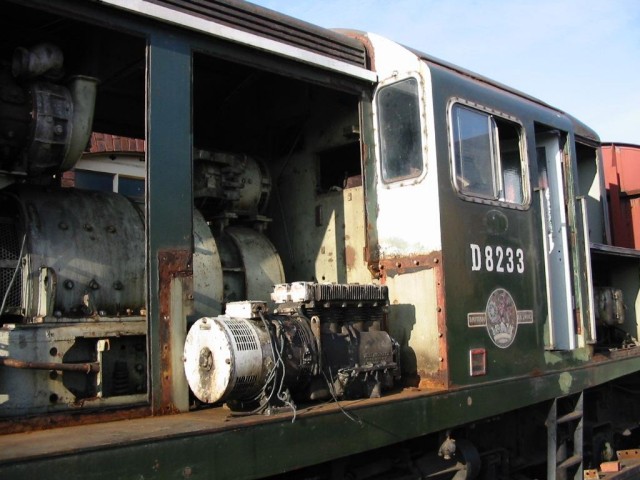 Above : This Exhauster has been placed on the loco sole bar where it's supposed to sit.

© C15PS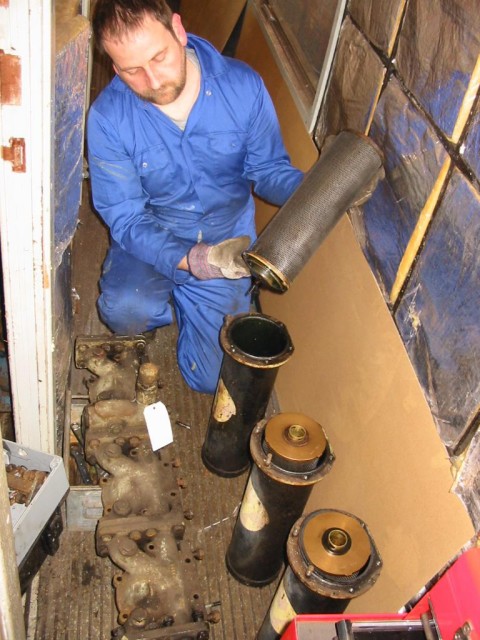 Above : Simon Dagnall inspects the oil filter elements after dismantling the filter unit.

© C15PS
Fancy Getting Involved? click on the You Can Help page