31 March & 1-2 April 2007

These three days were not on the official work w/e list, but a bunch of us were available for these three days and decided it was time we got things moving on the cooler group rebuild.

On Saturday 31st, all the metal that required cutting to shape was done and the new radiator side panel pieces drilled and countersunk and bolted to the loco in readiness for welding the next day. On the old wasted side panel the beading that goes round the whole edge of the shutter area was cut off and drelled ready for welding onto the new panel the following day, the big square girder type frame that is welded to the side panel and the shutter assembly bolts too, was finished wire wheeling and given a coat of primer, again in readiness for welding on the next day.

Also on this day, we fitted the first part back to cooler group, this being the finished and painted side panel, this means we are actually putting items back on now not taking them off, which was good to see.
Sunday 1st of April, saw the arrival of Jim Gough and his welder, and we certainly made him work today! The new pieces of metal around the cooler group and nose end had the welding finished off then ground down, and after this he set about the new cooler group side panel, this required the four pieces welding together then the frame for shutters welding on, then the outside beading welding back on. All sounds simple on paper, but all this took most of the day welding in the outside conditions can be very hard to do especially if a bit breezy!
Monday 2nd April saw work up at Castlecroft Depot, the Shotblaster (and shot) was transported up along with all the radiator shutters, we decided the previous day that the best way to drell these up without spending hours getting into all the nooks and crannies by hand was to shot blast them, however, due to the workspace at the side of D8233 being lost to Carillion contract, there is no space to do this where D8233 is without upsetting various car owners for a mottled paint finish!

At Castlecroft a start was made and the majority of the shutters were blasted very well, however shot ran out and so did time, so the rest were put away at Castlecroft for another time, also during the day, the two nose end compartment doors were transported up to Castlecroft so they could be shot blasted on a future date as well, transport being provided by 08 445!
Photos of the work are below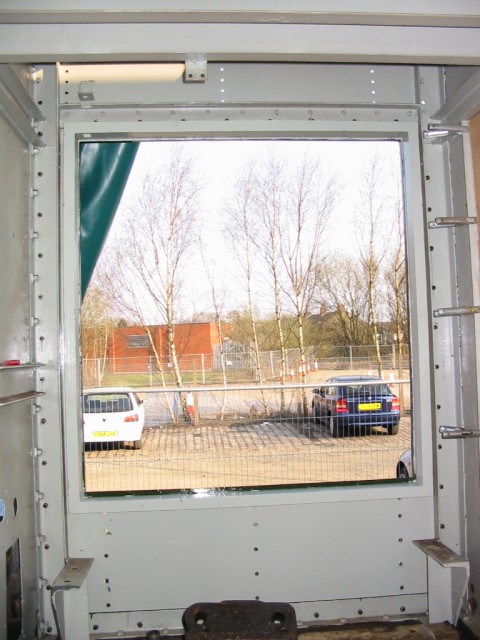 Above : With the L/H Radiator facia fully bolted in this is the view from the inside out.

© C15PS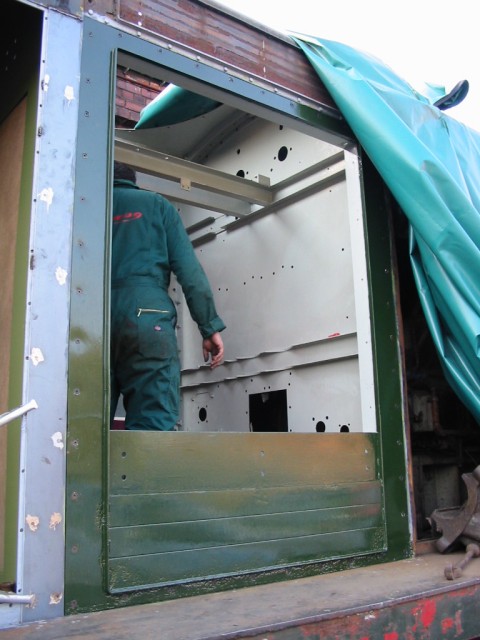 Above : How the re-fitted L/H radiator facia panel looks like viewed from the outside.

© C15PS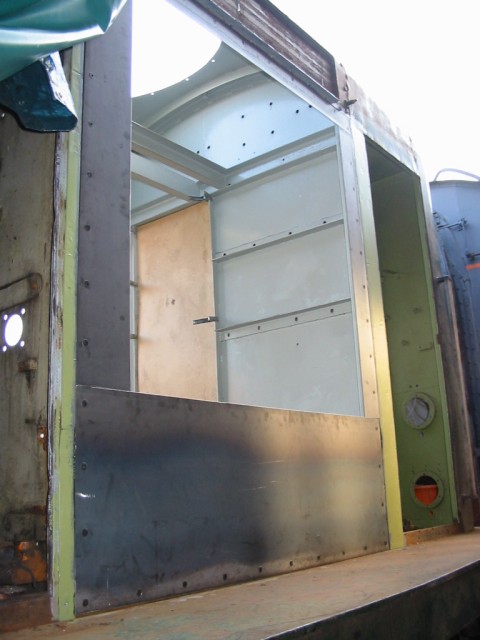 Above : The panels that will form the new R/H facia are bolted in ready for welding.

© C15PS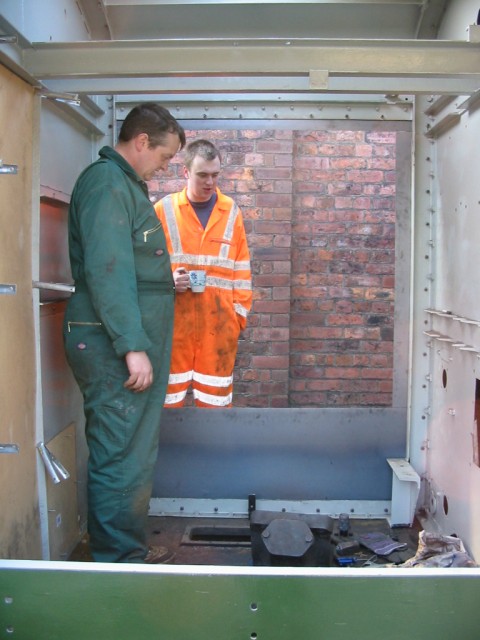 Above : The Chris B & Chris T stand back to admire the results of the days work.

© C15PS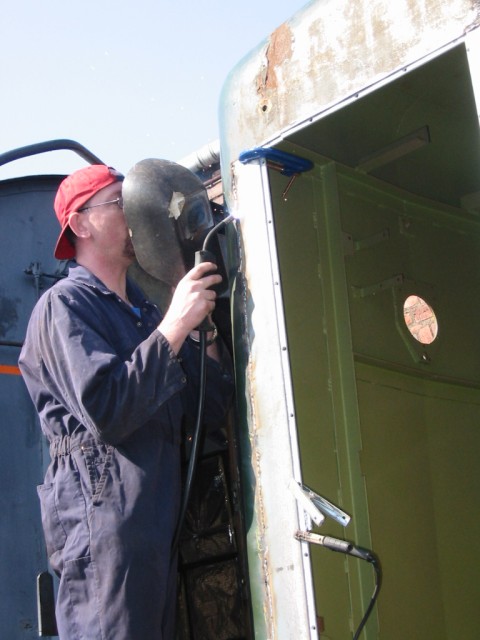 Above : Jim Gough welds the new metal into frame of the nose end compartment door.

© C15PS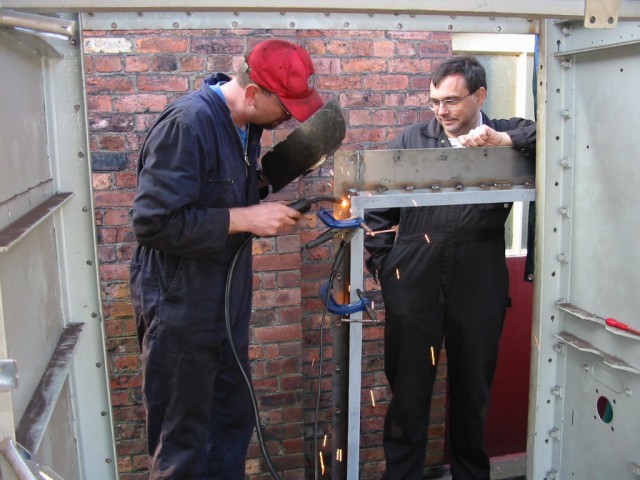 Above : Dave Garnett holds up the new facia plate while Jim welds in the shutter frame.

© C15PS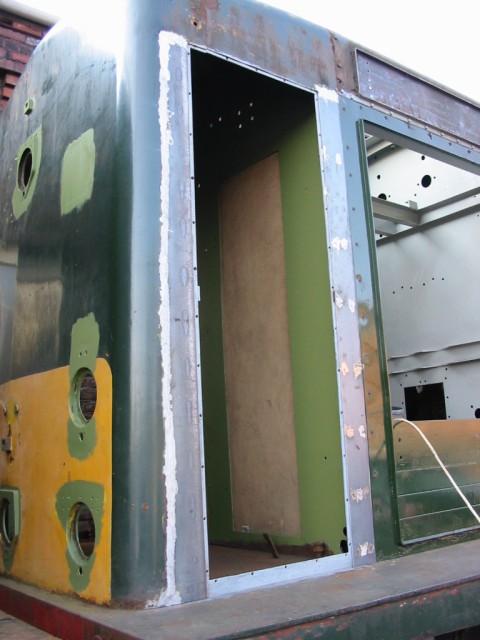 Above : The new strips around the L/H nose end door have been fully welded in.

© C15PS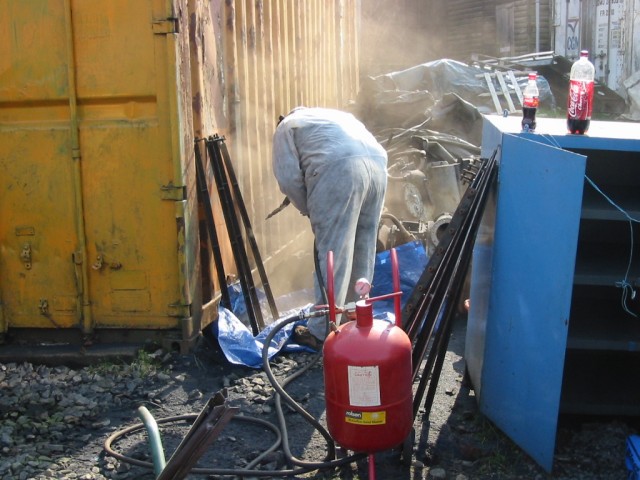 Above : Chris Bailey continues with the shot blasting of the radiator shutters at Castlecroft.

© C15PS



Fancy Getting Involved? click on the You Can Help page