2/3 June 2007
Saturday 2nd June : After last weekends mega cooler group re-build the objective of this weekend was pretty much back to the regular cleaning and painting, Chris Baily had e-mailed us a long list of jobs to be done along with a challenge to get them all done!!
Work started at around 9.00 with four working members. First job was to remove the tarpaulin from the cooler group and fit the right hand side radiator top and bottom tanks, this was effectively finishing off last weekends plans!! After this we fitted the fan drive pedestal, with all this re-fitted you really start to get an idea how little room there is in the cooler group when it's fully fitted out!
After this, Jason started cleaning up and wirebrushing all the cooler group pipework left in the coach, Danny started wire brushing the area above the radiator shutters where the dummy grills are fitted. Meanwhile Chris and Dave started unblocking the oil drain pipes that come through the cooler group floor, these pipes were full of the oily sludge that's been in all the oil pipes, this meant that all the shot from the shotblasting had stuck in the pipes completely blocking them up. Later on in the day we loaded all the Traction motor blower ducting into Chris's car and took it to Castlecroft for steam cleaning, We also took the oil thermostat so that it can be tested and cleaned out.
Sunday 3rd June : Sunday was a bit of a later start mostly due to a rather "social" Saturday night out!! At around 10.30 there was a big rush by Chris, Danny and Dave to Green Gloss the area above the radiator shutters where the dummy grilles are mounted, and also gloss the dummy grilles!! Meanwhile Jason carried on painting the cooler group pipes in the coach.
Whilst we were waiting for the paint to dry Chris, Danny and Dave went to Castlecroft. Danny started steam cleaning the traction motor Ducting which was covered in oil and muck from spending years on the cooler group floor!! Chris and Dave cleaned and tested the oil thermostat, unfortunately this was found not to work so it's been placed in the hands of one of the BHG's technical guru's Alan Lee, who will strip it down over the next couple of weeks. Late in afternoon Chris, Danny and Dave returned to Baron Street where we fitted the dummy grilles we painted earlier on in the day.
Photos of the work are below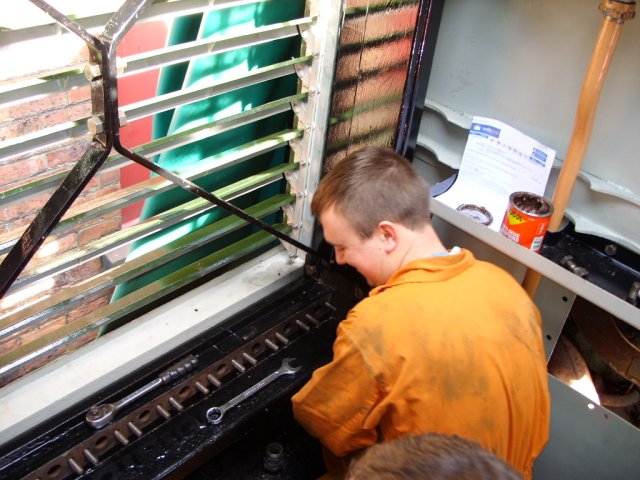 Above : Fitting the radiator tanks.

© C15PS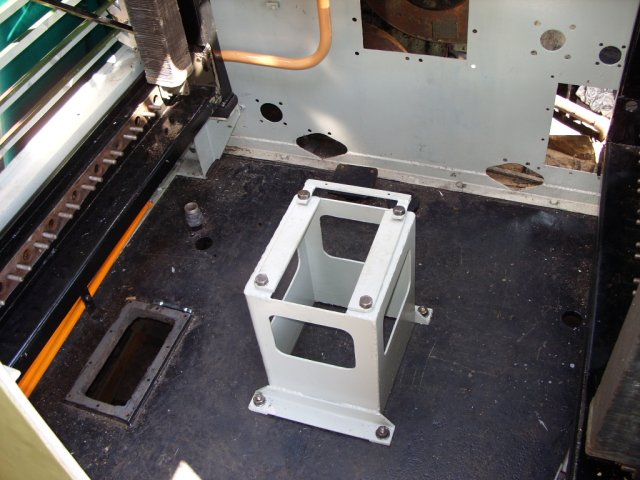 Above : Fan drive pedastal bolted in place.

© C15PS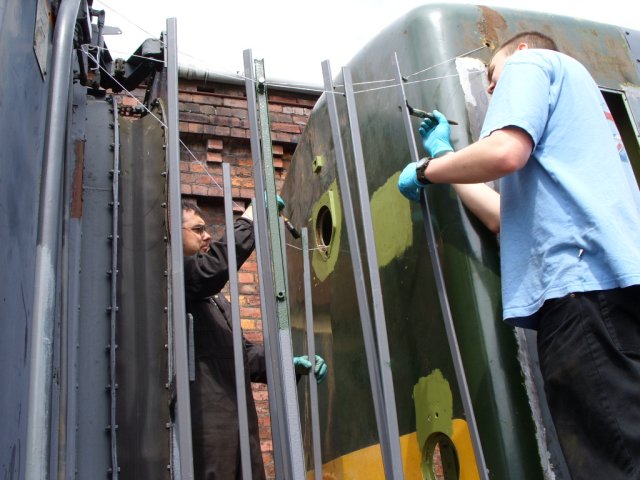 Above : Undercoating the dummy radiator grilles.

© C15PS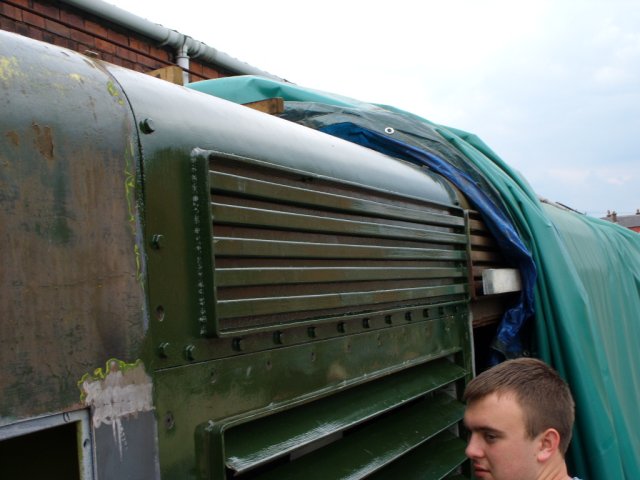 Above : The dummy radiator grilles in position.

© C15PS
Fancy Getting Involved? click on the You Can Help page