16/17 June 2007
This weekend was a case of one step forward two steps back. The main aim was to carry on with the cooler group re-build, and given the chance start to bring the No.1 end compartment up to scratch.

Saturday 16th June : Jim started off on Saturday by welding the dummy grilles onto the new RH side frame which was fitted the working weekend before last. Unfortunately Jim ran out of welding wire just before he finished so this will require slight attention next time. Meanwhile Jason and Dave carried on sorting all the oil pipes and water pipes for the cooler group. This saw all the oil pipes completed in salmon pink gloss ready for re-fitting.

Sunday 17th June : Chris decided it was about time we sorted out the big box of nuts and bolts that was filled when we stripped the cooler group out. This should help make the re-build a bit easier because we struggled to find all the correct size bolts when we put radiator tanks back together. Jason decided to put some of the oil pipes back into the cooler group. It was just after this that he came back into the coach with a big grin on his face saying "Chris we're going to have to take one of the radiator tank frames apart again!!" It turns out that we were supposed to attach one of the pipes behind the tank side frame and it now wouldn't fit!! So needless to say it came apart, 2 weeks after we put it together!! Once we'd taken it apart, fitted the pipe and re-built the radiator tanks and frame again it was time to pack up.
So not the most productive weekend ever but still, progress was made and photos are below.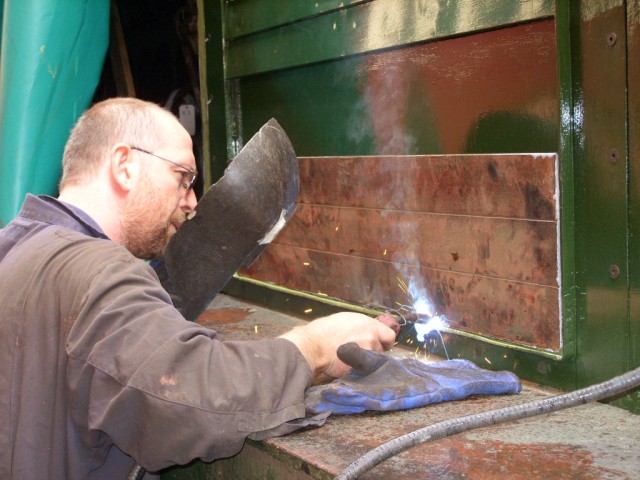 Above : Jim Gough starts to weld back in the R/H dummy shutter panel.

© C15PS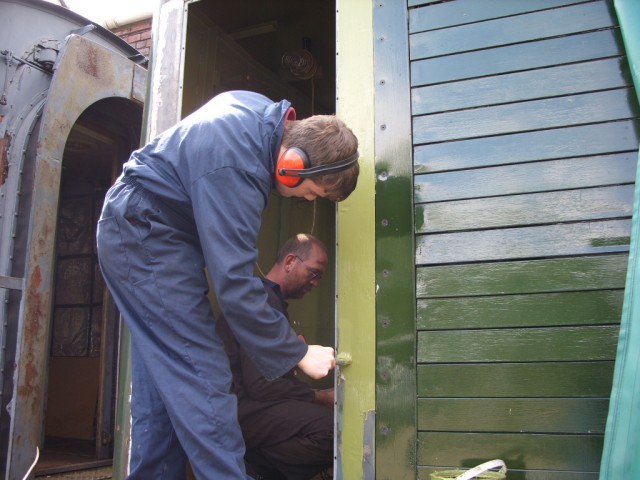 Above : Dave Martin applies a coat of primer to the newly welded in metal plate .

© C15PS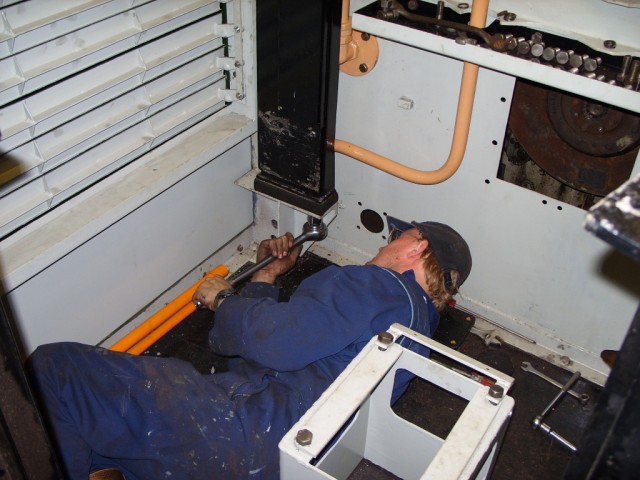 Above : Jason Lovell tightens up the large mounting bolts for the Radiator side frame.

© C15PS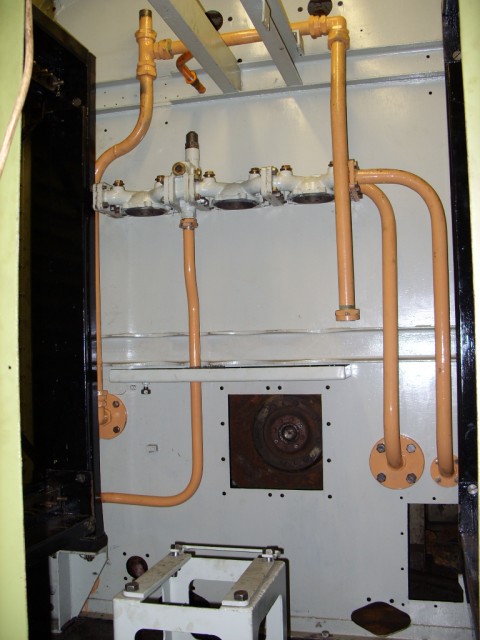 Above : The cooler group oil pipes are really starting to go back in now .

© C15PS
Fancy Getting Involved? click on the You Can Help page