15-19 October 2007
Working Week 15-19 October : During this above period, three C15PS members were present to complete the drelling and painting of the rear bulkhead, engine room floor, water header tank and roof section ready for the fitting of the new power unit the following weekend.

The header tank was drelled back to bare metal and had a coat of primer, undercoat and engine room gloss, the rear bulkhead was again given the same treatment. The floor was drelled and painted, but given two coats of the black floor paint we used in the cooler group and nose end compartments. The cab bulkhead was also part drelled and primed and undercoated.

On the Friday, more people turned up ready for the weekend ahead. D8233 was shunted out and part positioned on Road 4. The new power unit had its tarps removed and the bottom water pipe work removed. The power unit was also steam cleaned, which revealed that the power unit had definitely been in a BR loco in its life as under the green paint was light grey paint, and various pipes had the relevant identification paints underneath the green.

The cover that was over the damper unit at the free-end of the engine was removed and revealed and nightmare….
On the shaft that comes from the rear of the crankshaft the fan clutch attaches which was missing on this powerunit, however the plan was to remove this from the old power unit and attach to the new one, but during its life the power unit had been barred round by someone with a very large pair of stilsons on this shaft, and as a result had destroyed the keyway and chewed the majority of the shaft.
Panic set in slightly, and it was decided to remove this shaft and damper before the new power unit went in the following day and use the one off the old power unit, an air line was set up and a windy gun employed to remove the nuts. A lift table was then manovered underneath and the bolts drifted out, the damper and shaft was free and lowered to the ground.
We then went to look at the old power unit, with access gain after removing the tarp, the drum of the clutch was removed, we then attempted to remove the bearing housing and bearing, but with light against us, we had to give up for the day. The bearing will need to be replaced, as it was rough to say the least!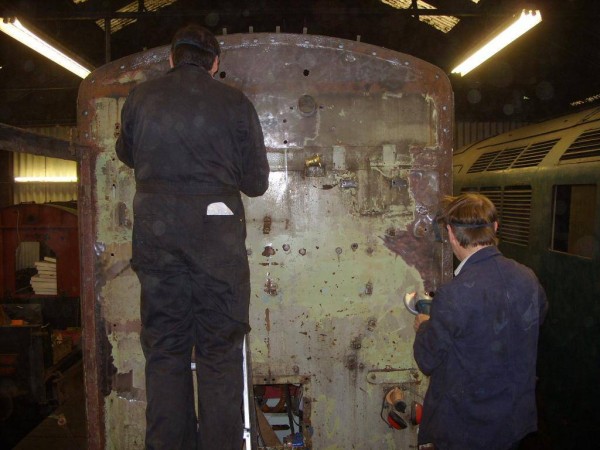 Above : The engine room bulkhead is taken back to bare metal.

© C15PS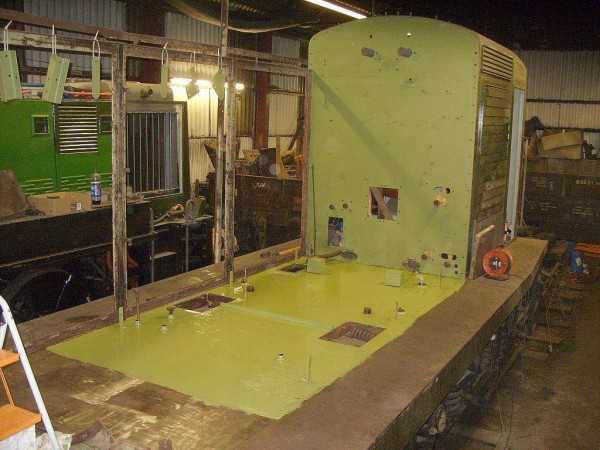 Above : The engine room floor and bulkhead having been cleaned and primed.

© C15PS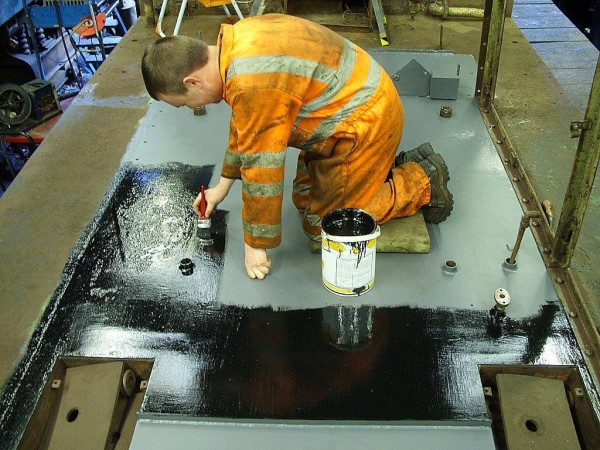 Above : The engine room floor is painted.

© C15PS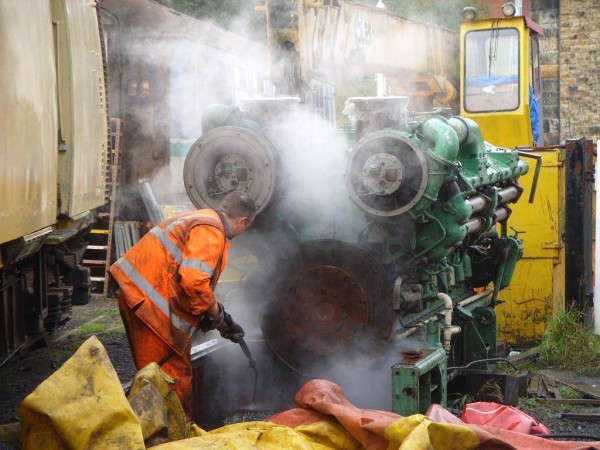 Above : The replacement power unit is given a steam clean.

© C15PS
Fancy Getting Involved? click on the You Can Help page