17-18 November 2007
Saturday 17th November :
Saturday started with a bit of a twist when Chris B, Chris T and Jim decided to do a bit of non D8233 maintenance on their cars, with all of us feeling the recent fuel price boom we made use of the Groups compressor to put some air in our tyres!!
This weekend was the first working weekend since the loco returned from Castlecroft with its new power unit in place, and attention returned to the partially re-built cooler group. A decision was made to refit the Traction Motor blower ducting which involved a lot of fiddling about trying to get the new gaskets to line up with the bolt holes.
This completed Chris B decided we should try and re-fit the overhauled Fan Drive Gearbox, Fan Bearing and Vertical Drive shaft. During a Midweek working day a few weeks previously Chris B and Chris T re-fitted the drive hubs to the gearbox, these being removed by Solutions Engineering during the overhaul, refitting involved heating the hubs to make them expand and freezing the corresponding shaft to make it shrink, unfortunately the vertical hub didn't go on far enough and when we came to put the assembly back together this weekend it caused the fan bearing to stand high by ½ an inch, left like this it would put excess strain on the gearbox and cause it to fail quickly in years to come
Sunday 18th November: This brings us to Sunday where two of our friends from the Irish Traction Group, Aiden and Mark joined us for the day before flying back over to Ireland.
The first job was to remove the fan gearbox so we could move the Hub down on the shaft at a later date, this done work returned to the more usual drelling and painting of water pipes and guard mesh from the cooler group. The room that used to be the toilet in our workshop/stores coach has been used as a "to do" parts store for the cooler group, this time last year it was overflowing and now it's, thankfully, nearly empty.
Another job, that was undertaken by Chris T and Rob, was a quick trip to B&Q. We've decided that washing our hands in cold water outside the coach isn't fun in winter, so we've decided to fit a sink with a water heater inside the coach, this also means that Mr Garnett can do the washing up to his hearts content without boiling the kettle repeatedly!!!
All in all a successful weekend, with many thanks going to Aiden and Mark from the ITG, hope to see you next year over your side of the water!!!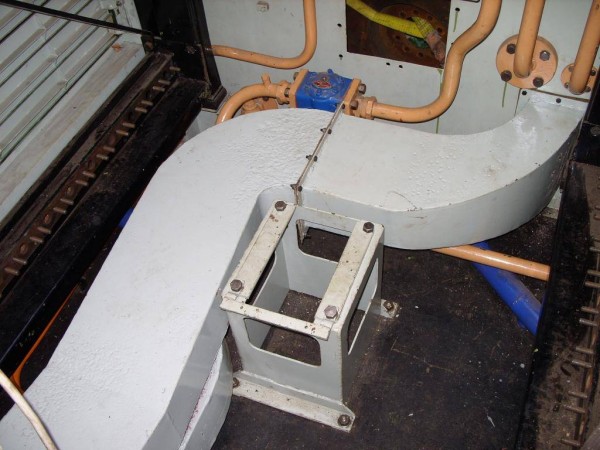 Above : Re-installed traction motor blower ducting.

© C15PS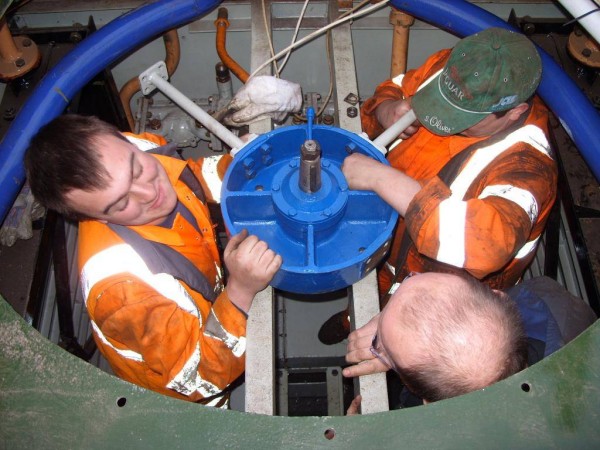 Above : Chris Tatton, Chris Baily and Jim Gough refitting the fan drive assembly.

© C15PS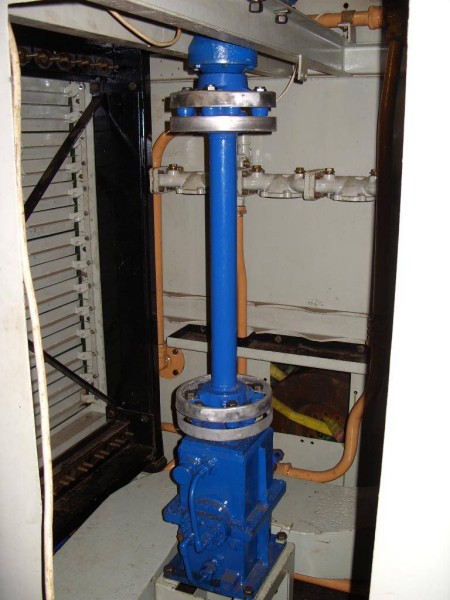 Above : The fan drive gearbox and drive shaft.

© C15PS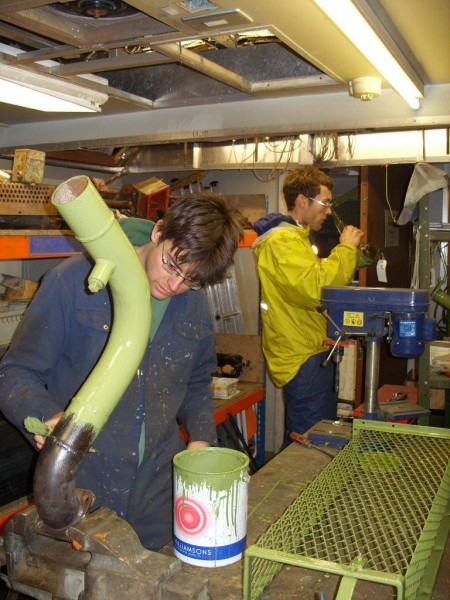 Above : ITG members Aiden & Mark priming cooler group components.

© C15PS
Fancy Getting Involved? click on the You Can Help page