28 February 2008
Thursday 28th Feb: Today more progress was made on D8233. Another mid-week session with the goal of fitting the damper, clutch and fan drive shaft.
The first task was to clean up the rear crankshaft drive hub of surface rust, which was done using a drill and wire cup brush. Next the shaft was fitted and the bolts tapped through. The shaft has been away for repair to its keyway and have a new key made, Many thanks to Les Tappenden for this, cracking A1 job matey!!!
Next up was fitting of the damper, slings were applied round the header tank and a block n tackle off them. The magnet lift was applied to the damper and the chain connected. The damper was then lifted over the shaft and into position, and with some barring round of the power unit the bolts lined up. The damper was then gently tapped back until the bolts poked through far enough for the nuts to be run on. It was then pulled on using the nuts until it was home all the way round, the bolts were then torqued up and split pins fitted.
The next item to go on was the back plate then the clutch assembly itself, this item is slid onto the shaft and the key stops it from rotating. Again it was gently tapped home and the locking grub screw tightened Nick Hewitt has kindly donated the monies to get the clutch re-lined and the drum skimmed, so it is now in A1 condition, Thanks Nick!
The bearing and drum runner was next to be fitted, again this needed gently tapping onto the shaft, using a suitable bit of pipe it was tapped on home. The drum itself was the next job, but before it could be bolted up to its runner, the rather fiddly job of bolting the back plate to it had to be done, fiddly due to the back of the drum and plate being inside the damper, which there wasn't a lot of room for fingers to start the bolts! After lots of swearing and patience all the nuts were in and tightened, the drum itself could then be bolted to its runner and torqued up. With this done there was only the main fan drive shaft to the gearbox to fit, this was done with due ease and the fan drive gearbox finally tightened down.
With the above all now complete it now opens the door for all the oil, water, and fuel pipework to be fitted at the free end of the engine, and items such as the thermostat can be mounted. I'm hoping this can be done on the next working weekend along with fitting the radiator elements, fan roof section and the fan drive guards.
The next working weekend is 15th/16th March - if you wish to lend a hand please contact Chris Tatton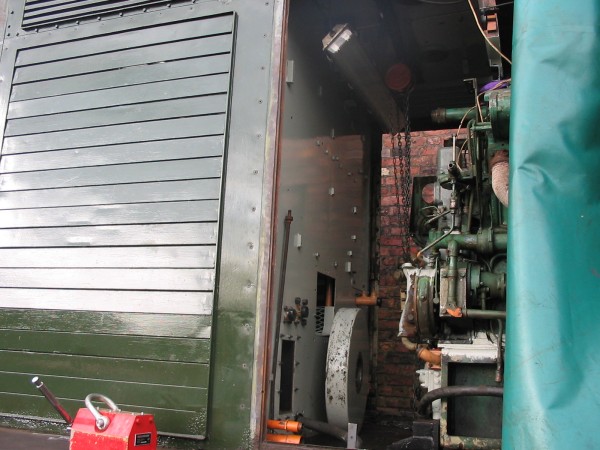 Above : Before work started.

© C15PS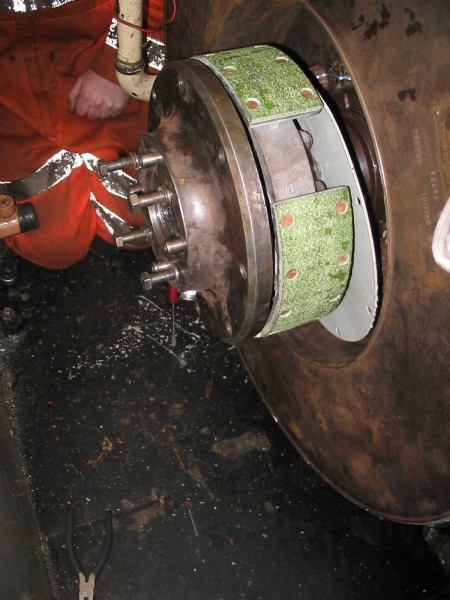 Above : Clutch, bearing and drum runner fitted

© C15PS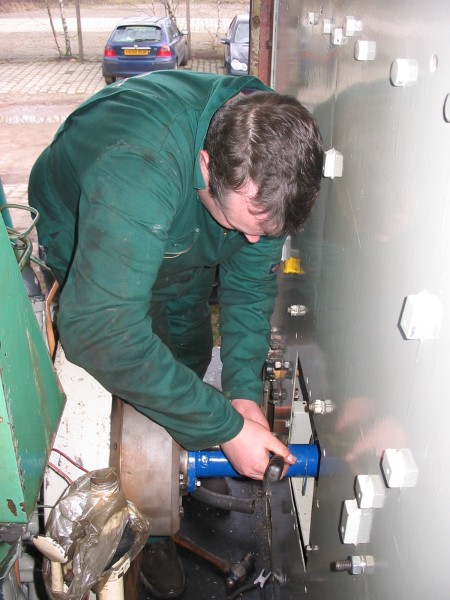 Above : Tightening the shaft bolts.

© C15PS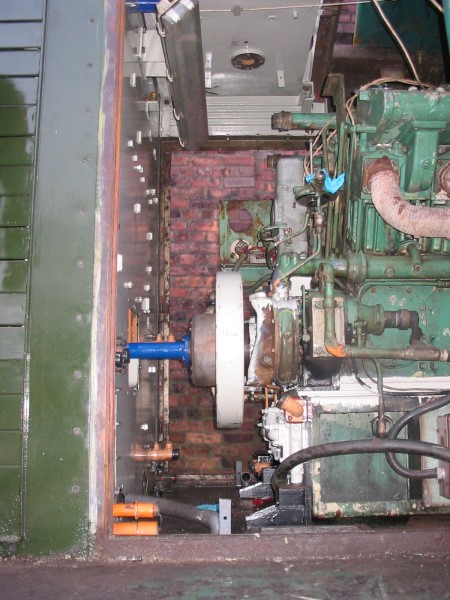 Above : The completed job.

© C15PS
Fancy Getting Involved? click on the You Can Help page