29 November - 01 December 2008
Friday 29th November.
Today was the day we had organised and arranged for D8233's side doors to be picked up from Cambrian Powder Paints in Oswestry and transported back to Bury. We hired a large van to achieve this driven by Jim and his usual helper came along. Cambrian Powder Paints in Oswestry has shot blasted and primed all the side doors. Some will need minor repairs as the tin worm has been revealed but nothing too serious!
Upon arrival at Bury, Jason had pulled the tarp back over D8233 and all the large doors that didn't need repair were refitted to the loco, some will need minor adjustments to make them fit smoothly, oddly all on one side! The smaller doors and ones in need of repair were put to one side in the generator compartment. The doors will now need painting up further to gloss grey internally and gloss green externally. This a job for 2009 when better weather is with us.
Saturday 30th November.
AGM day. A day of meetings for the working members; We first held a Project meeting, this was to thrash out a way forward for both D8233 and D5705 during 2009, the main result of the meeting it being decided that the working weekends would be alternated between D5705 and D8233 unless we were overrun with volunteers and able to put a team on each.We then attended the Annual General Meeting of the society. After this many of us were unfit to carry out work! so no further work was carried out today on the locos.
Sunday 1st December.
Myself and Jason who were staying in the coach, got up and discovered that it was a freeze out! The supply to the coach was frozen and just about everything you touched was too! We decided that rather than spend the day freezing cold and also more than likely catching one we would both set off home. We had planned to move the electrical items from Castlecroft down to the coach, but this task was deferred to the following work weekend. Still the big achievement for the weekend was the return and refitting of the doors, so we felt that the group had made progress anyway.
The next working weekend is on 17/18 January. If you wish to lend a hand please contact Chris Tatton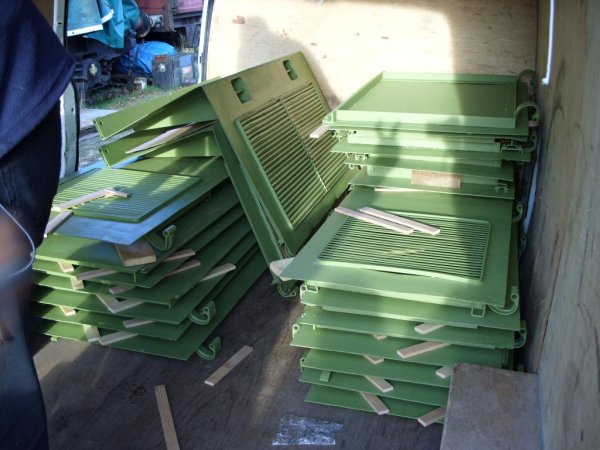 Above : Around midday Friday the doors arrived all carefully stacked up in the back of a van.

© C15PS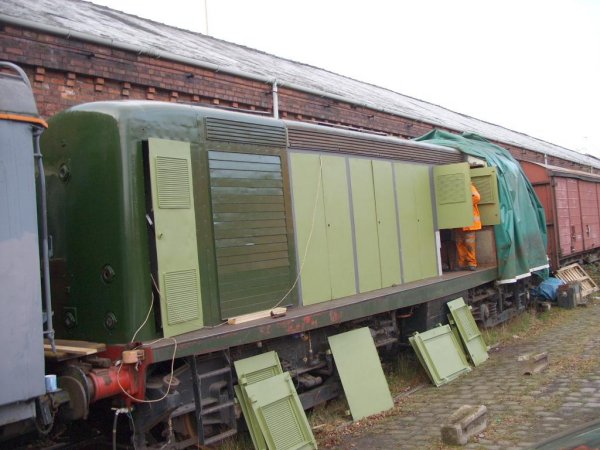 Above : All the main doors have now been hung down the L/H side and they fit quite well.

© C15PS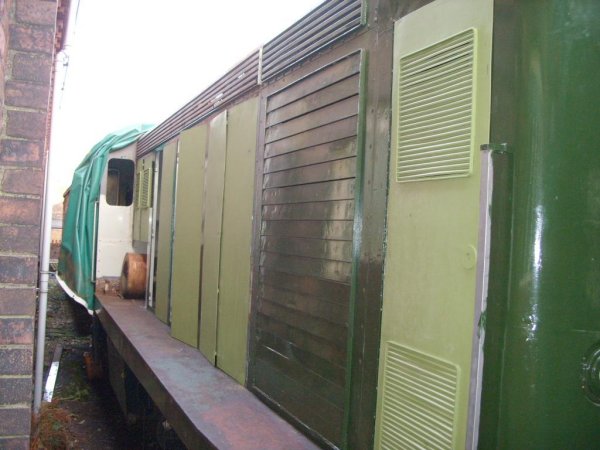 Above : The door on the R/H side don't seem to fit as well as the L/H doors do.

© C15PS
Fancy Getting Involved? click on the You Can Help page