19 April 2010
Monday 19 th April :
The big day of the generator refit.
We began the day early on and peeled the tarpaulin back far enough to expose the generator area. We then set about looking for and blocking the crane ready for the lift, this took some time though. Kevin Cook and Carl Westward arrived and immediately set about weighing the job up and cleaning required faces up, and barring the flywheel on the power unit into the correct position.
We then test lifted the Generator, and adjusted chains until we were happy that the lift was square and level.
The crane then hoisted the generator up and gently slewed and hoisted it into position. Kevin and Carl then proceeded to enter the flywheel dowels and bolting it up.
Once done the carcass was let down onto the plate, Carl then tried to locate one of the side dowels, which then became stuck and took sometime to then remove. Once out, Kevin and Carl set about setting the casing air gap and crankshaft deflection up using the original shims at first, then adding in 10 thou each side to bring the deflection to with in ½ thou and the casing air gap to within 5 thou.
Once happy they set about fully bolting the casing down, but ran into a problem; on a set of the side fixings, the holes were slightly out and needed opening out to allow the bolts to start in the casings thread. We set up and air line with a small drill and metal remover and Kevin and Carl set about opening the holes out, which took some time. Once done and all three were home, the air gap and deflection was checked and everyone was happy with the result.
Kevin and Carl then retired to the hotel, while Carl Holt and myself took the decision to crane on the turbos and roof section that evening to save time the following day. Help was summoned in the form of Nick Hewitt and the brackets were refitted and each turbo was craned back on, followed by the roof section and then bolted down. The tarp was then brought back over the loco and tied down ready for the shunt home.
With the clock now at 20.30, we called it a day and headed for the showers/food/pub
The next working weekend is 5/6 June. If you wish to lend a hand please contact Chris Tatton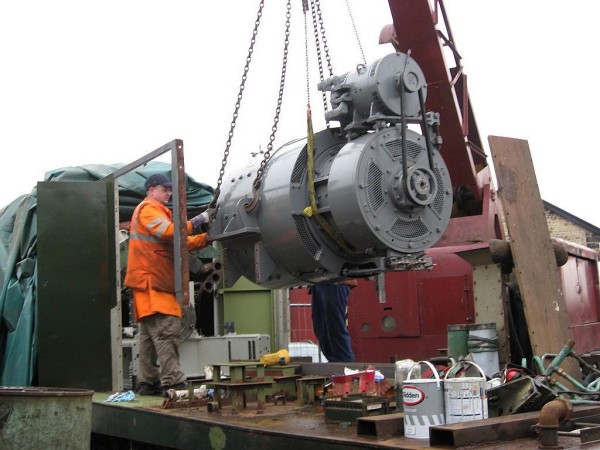 Above : The Genny was slowly lifted up and the crane slewed it into position.

© C15PS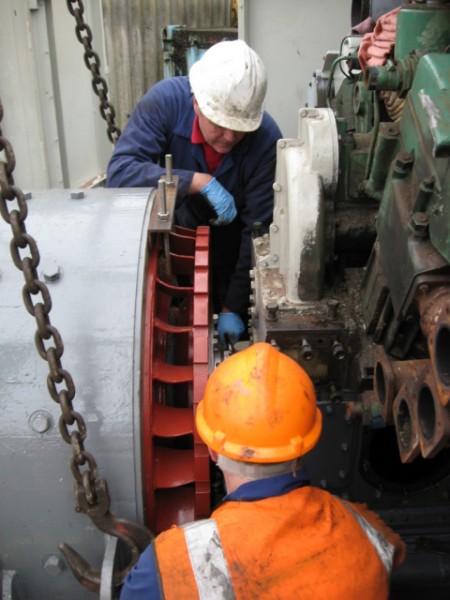 Above : Kevin and Carl, the genny fitters, bolt up the flywheel to the crankshaft disc.

© C15PS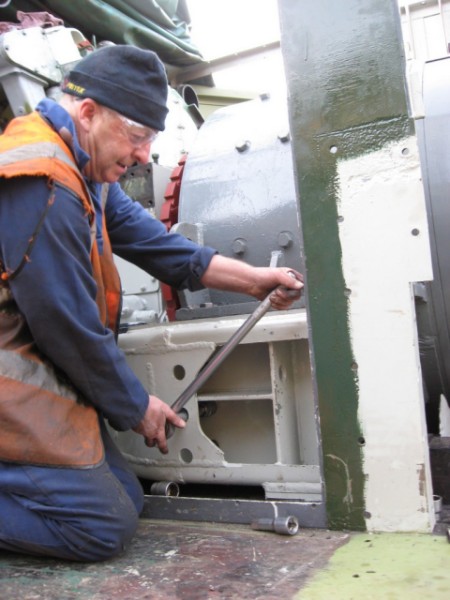 Above : Once aligned Kevin could start tightening up the side mounting bolts.

© C15PS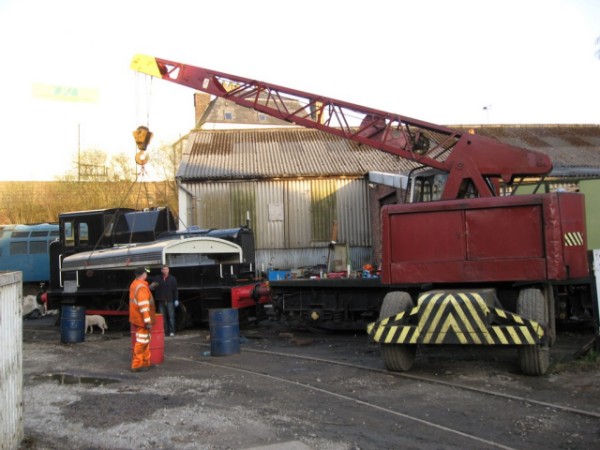 Above : The roof was raised off the barrells and lifted back onto the loco. © C15PS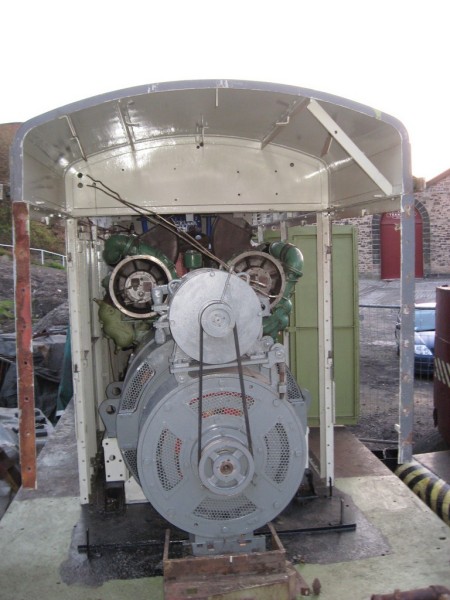 Above : All back together again the Genny looks mint back in its rightful place.
© C15PS
Fancy Getting Involved? click on the You Can Help page