31st July & 1st August
Saturday 31st of July 2010
Attendance: 5
Kris and Jim started the day by getting the conduit out of the tent for continued repairs with help from Graham. The tarp was then removed off the No2 end of D8233 then Graham and Dave set to work drelling the cab and No2 end floor of years of thick corrosion. Jason spent the morning counting and sizing all the bolts needed for the cab and No2 end back on to the frames and each other. Graham modified the corner off one of the pedestals so the main conduit trunk does not foul without damaging it. He then removed a short section of conduit that needed repairs off the cab floor. Meanwhile Dave continued to drell the floor of the No2 end area. Jim and Kris continued the repairs to the conduit replacing corroded steel and smoothing off the new welds. They also straightened out the damage that had happened when the conduit was removed and fitted strengtheners to stop warping. After Jason had finished counting the bolts, he cleaned up all the spilt oil on the engine room floor along the back two thirds of the R/H side of the engine which leaked out during the start up. He then painted the floor and the R/H drain sump with black floor paint and then moved on to fitting some missing bolts and nuts from the side frame. He had to drill out the holes that didn't line up properly before some would fit through. Dave, Jim and Kris assisted him with fitting the bolts as some were in tricky locations!
Sunday 1st August
Attendance 2
The day started brightly with attendees Jason and Rob making headway with the final preparations to the cab floor area, including some drelling then wiping the entire area down to remove the last traces of oil and grime. The usual green anti-corrosive primer was then applied, a time consuming job which the brush has negotiate the plethora of angle-iron protruding from the floor.
After a late lunch Jason applied some weld etch primer to certain parts of the floor where the large conduit which goes straight through along the floor of the cab. Once he had completed that task Jason went in to the engine room of D8233 where he continued a previous days task of fitting all of the bolts to the side frames, securing the floor and roof to it. Rob journeyed in to the tent to finish painting the roof sections from the Co-Bo and make a start on glossing the 15's cab.
The next working weekend is 14/15 August. If you wish to lend a hand please contact Chris Tatton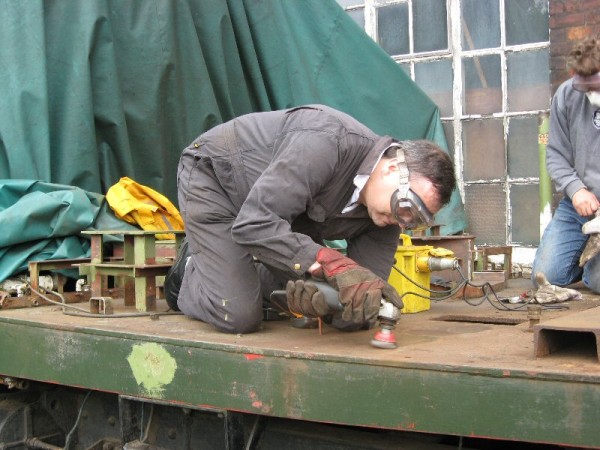 Above : Dave busy drelling the floor.

© C15PS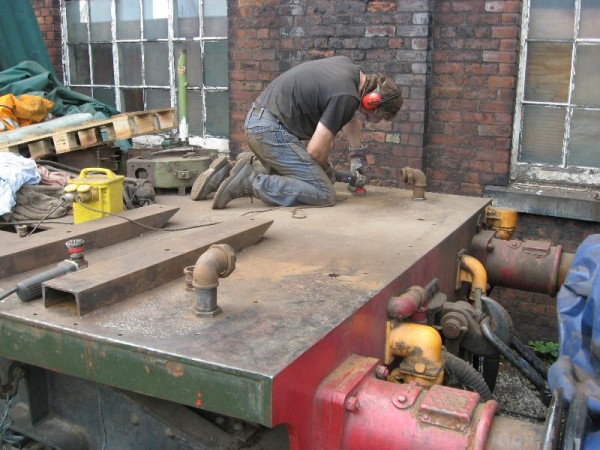 Above : Graham drelling the floor.

© C15PS
Above : Graham modifies a pedastal.

© C15PS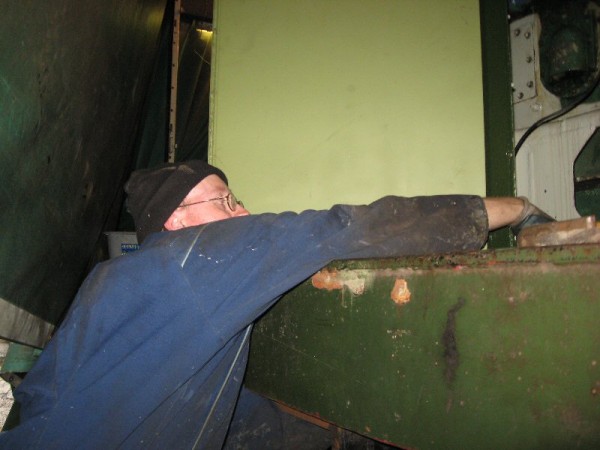 Above : Jason fitting side frame bolts. © C15PS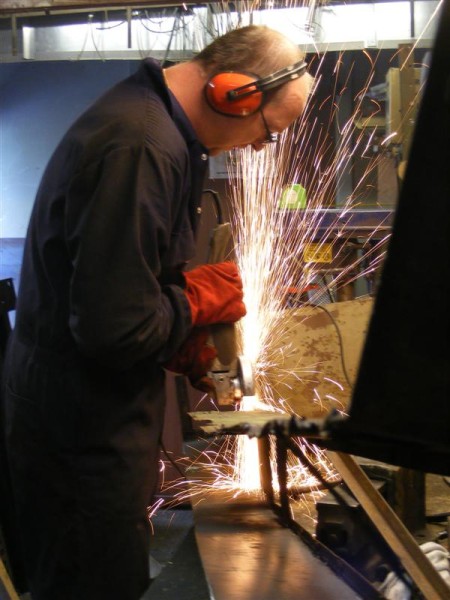 Above : Jim repairing the main conduit trunk.
© C15PS
Above : Jim, Graham & kris carrying the main conduit trunk.

© C15PS
Fancy Getting Involved? click on the You Can Help page