9th September 2011
The Class 15 Preservation society has been given a recent boost, with the acquisition of a pair of ex class 15 bogies from the Crewe Heritage trust.
These bogies were originally donated by ABB Crewe works to Crewe Heritage trust when D8233 was located there. They have now donated these on to the C15PS and are quite important as the axles have the correct gear wheel ratio for the ex- Irish loco MV137 traction motors pinions which were acquired whilst the loco was at Crewe. The wheel sets under D8233 do not and without the replacement wheel-sets the project would have faced very costly measures to get 4 pinions with the correct ratio made. So our thanks go to the Crewe Heritage Trust for these, without them the final phase in D8233's restoration would have been much harder.

The bogies are now on site at Bury and will be assessed with a view to restoring them to go under D8233, however there is much work involved, parts will need to swapped over and 3rd party attachments removed. The bogies may not be able to be restored for use under D8233 if damage to the frames or spring gear is beyond repair. The wheel-sets though are and if the case, they will be removed for renovation.
At present work on D8233 is concentrating on the upper sole bar level and it will be sometime before attention is turned to bogie restoration.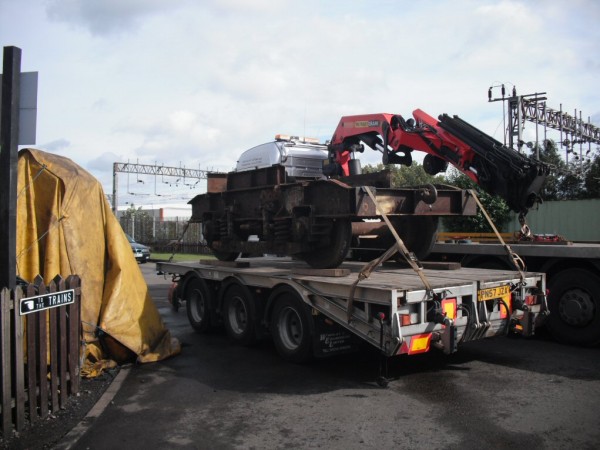 Above : Loading Class 15 bogies at Crewe Heritage Centre.

© C15PS
Above : Loading Class 15 bogies at Crewe Heritage Centre.

© C15PS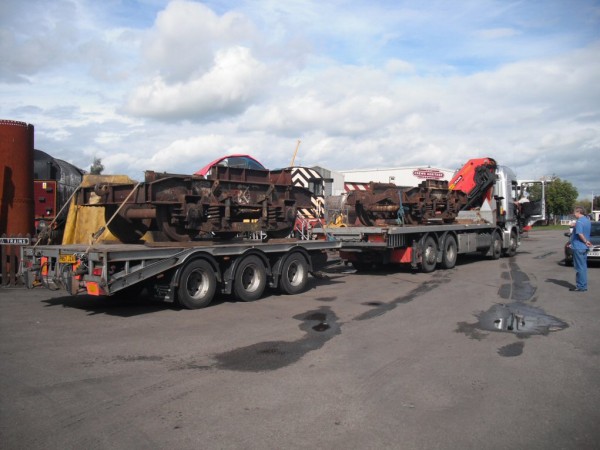 Above : Loading Class 15 bogies at Crewe Heritage Centre.

© C15PS
Fancy Getting Involved? click on the You Can Help page