11 December 2011
Attendance 2:
Adam and Jason had been working on Ernest (see D9531.com for report) all weekend but were able to spend part of Sunday afternoon working on the Class 15. Over previous working weekends part of the Generator bulkhead and the flywheel cover had been given the usual paint treatment of a clean, strip back to bare metal and then three coats of paint finishing off with Wood Pigeon Gloss. Also the lower part of the bulkhead frame was taken round to make sure it could be fitted now that the generator is in place.
To start with Adam and Jason test fitted the lower bulkhead frame. This was fed under the generator and with Adam and Jason on either side of the generator it was placed into position. There were concerns that this wouldn't be possible with the generator in place so it was a relief when it was in place. The frame was then removed ready to be straightened and drelled back to bare metal as it was coated in oily muck.
The flywheel covers were fitted next, Jason had sourced some bolts for these and the four pieces of the cover were placed into position and bolted up onto the end of the Generator.
Two pieces of the lower bulkhead had been repainted previously and these were test fitted. The electrical conduits which have been put in place the previous month fit through the lower bulkhead sections. Everything lined up fine but for some bent metal sections, these will be straightened out prior to refitting all of the parts. With that completed Adam and Jason returned to the workshop.
The lower bulkhead frame was given a clean down with white spirit to remove the oil and muck. While this was occurring Adam also wiped down 6 brackets that hold the long conduits in place. With everything wiped down Jason and Adam drelled the brackets and the frame back to bare metal and then coated them all in a coat of green anti-corrosive paint. The paint brushes were then cleaned up and with that all completed it was the end of the weekend.
If you wish to lend a hand please contact Chris Tatton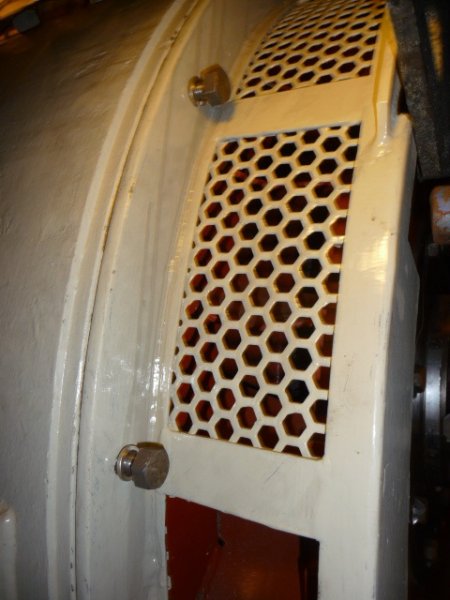 Above : The flywheel guard in place ready to be tightened up.

© C15PS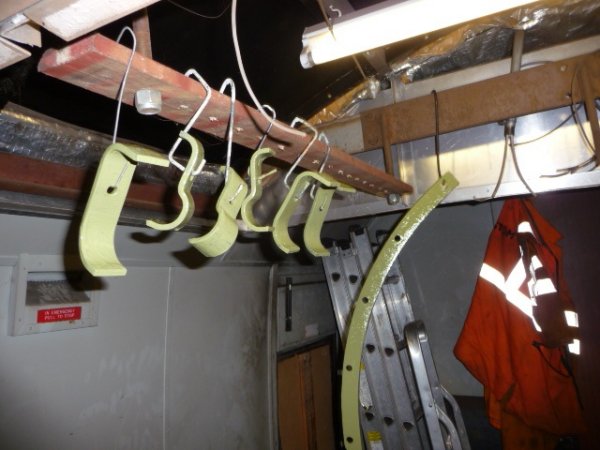 Above : Part of the bulkhead frame and some brackets once drelled and painted.

© C15PS
Fancy Getting Involved? click on the You Can Help page