30 March 2012
Work started, after the obligatory cup of coffee, with repairing the gauges on the gas bottle for the MIG welder which had been damaged. After this was completed the trolley was loaded to the gunnels with the welder, gas bottle, tools and sheet steel for transportation to D8233.
First job on '33 was to remove the air tank frame from the nose section which was in the way. Little Kris went under the front of the loco to hold the nuts with a spanner whilst Jim undid the bolts from inside the nose end. After this was removed it was loaded into the trolley and taken back to the coach for storage.
Then the plasma cutter and compressor and a few other tools were taken to D8233 to help with the job of making the new traction motor blower ducting. First of all the bottom part of the new ducting was shaped by Dave and Jim to fit and then Kris held it in place while Jim welded it in.
After a break for dinner Kris and Jim used a sheet of cardboard to make a template for one of the side pieces of the ducting whilst Dave set up the plasma cutter. As both the plasma cutter and the welder use a large amount of electricity only one can work at the same time, so Jim took a break whilst Kris cut the new side piece for the ducting. Several adjustments had to be made to the new side piece to make it fit satisfactorily before this was welded in place.
As time was pressing on, all the equipment was tidied up and taken back to the coach and put away. A quick discussion followed on what jobs we would do over the next few months before we left.
The next working weekend is April 21/22 - If you wish to lend a hand please contact Chris Tatton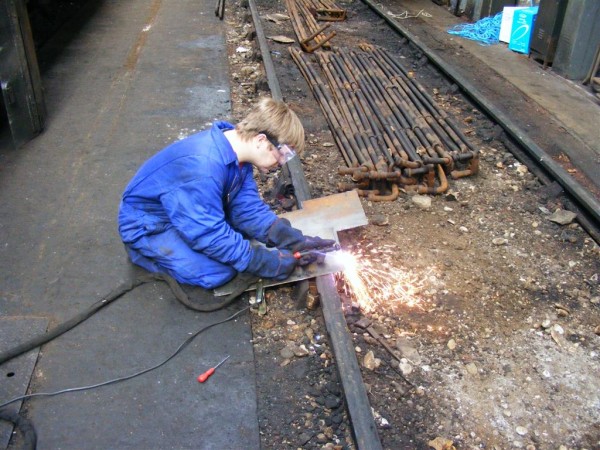 Above : Cutting ducting side.

© C15PS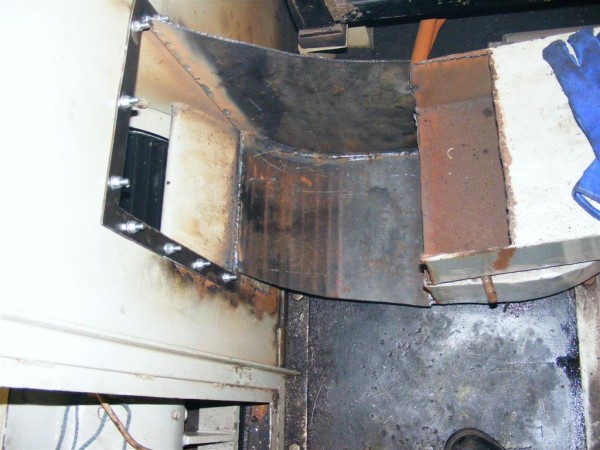 Above : Ducting bottom and side.

© C15PS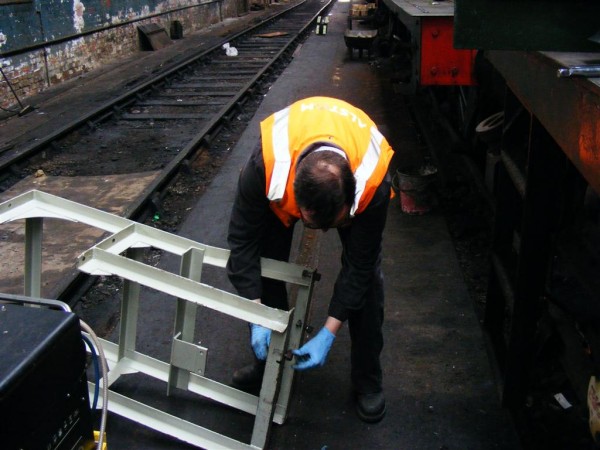 Above : Removing the side-tank frame.
© C15PS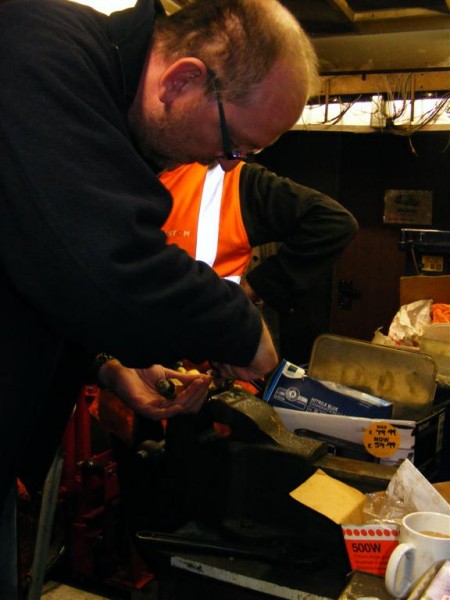 Above : Jim repairing the welder gauges.
© C15PS
Fancy Getting Involved? click on the You Can Help page