28 April 2012
We met at the coach as usual at 9 am for a quick discussion on the days jobs. Kris and Graham went off to carriage and wagon to bring the trolley back whilst Dave and Jim extracted the welder and did a quick repair to Jim's axe head! After Kris and Graham had returned with the trolley we started by loading up with the welder and various tools required for the days work.
Dave and Jim opened the drain cocks for the loco floor catch thanks and emptied the content into a bucket for disposal. Kris and Graham undid most of the bolts holding the traction motor blower motor to the bulkhead. This had to be moved so the welding could be finished on the parts fitted to the modified traction motor blower ducting on the last working weekend. After all the welding of the existing parts had been completed Dave and Jim went back to the coach to cut out the last piece of the ducting for the modification.
Meanwhile Kris and Graham measured up all the flexible coolant pipes so some new jubilee clips can be ordered. The fitted mikalor type clips have been found to be unsuitable for the silicone hoses fitted to the engine. They then measured up the two flanges of the missing piece of traction motor blower ducting that's in the engine room. We then had a break for dinner.
Afterwards Dave and Jim went to carriage and wagon to use the bending machine to put the correct bend in the last piece of steel for the traction motor blower ducting modification. Unfortunately the machine was buried under a vast number of 8' x 4' plywood sheets which had to be moved. When the metal was bent to what was thought to be the correct profile and attempt was made to fit it, but a return trip for tweaking was required. 3mm plate is not easy stuff to bend! When they were happy with the fit it was welded in place. Just 1 inch left of welding and the gas ran out so a new bottle had to be retrieved from the coach just to finish up.
Kris and Graham spent the afternoon cutting out the flanges for the missing ducting, and decided that the flexible piece of ducting that will eventually go underneath the loco was worth making too, so cut one out as well. After that we decided to call it a day and the tools were packed away.
The next working weekend is May 19/20 - If you wish to lend a hand please contact Chris Tatton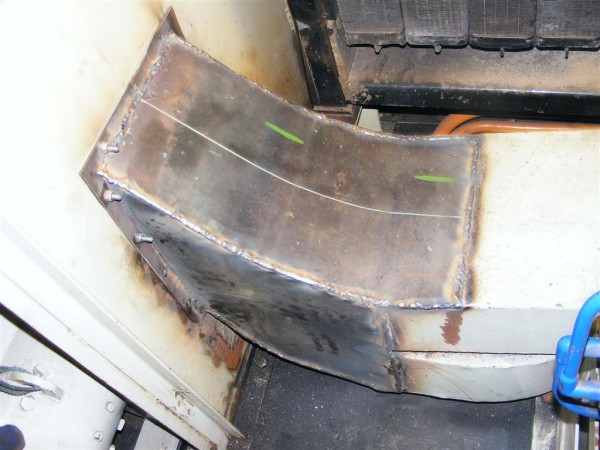 Above : Finished ducting.

© C15PS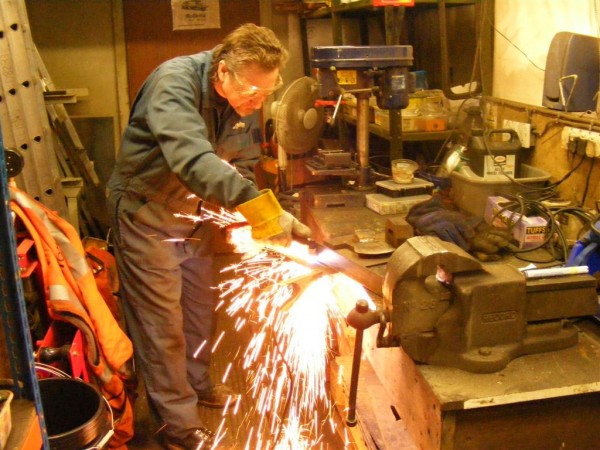 Above : Graham cutting.

© C15PS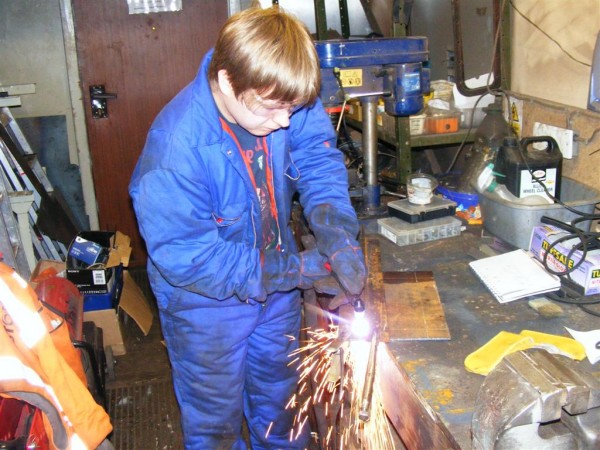 Above : Kris cutting.
© C15PS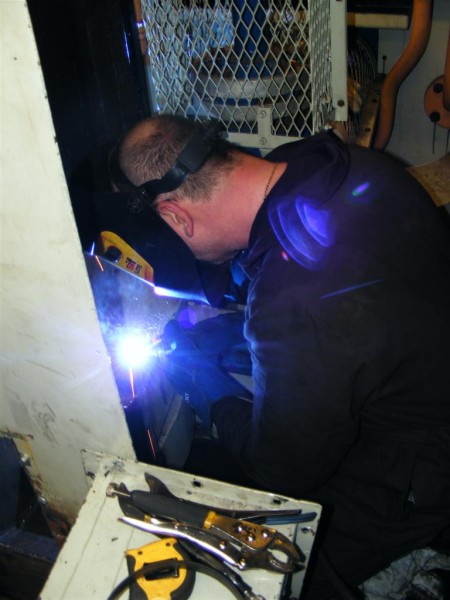 Above : Jim welding again.
© C15PS
Fancy Getting Involved? click on the You Can Help page