12 May 2012
Number of volunteers 3. Dave Garnett, Jim Gough & Kris Mason.
First job was to extract all the tools and equipment that we'd need for the day. We decided to carry on with making the traction motor blower ducting inside the engine compartment and to fit more of the doors with their handles. Dave and Jim started by adapting the flanges that Kris and Graham had made the fortnight before so that holes could be drilled through them for where they mount on the bulkhead and floor. They compared the measurements on the drawings we have to the actual holes in the bulkhead, only to find they didn't match up as Jim suspected. This meant that hole spacing had to be transferred from the bulkhead to the new flange before drilling. As it was quite hard to find a drill that wasn't blunt to do the job it was decided that a drill sharpener would be a good purchase!. After the holes were drilled it was test fitted on the bulk head and a couple of adjustments had to be made for it to go over all the bolts.
Kris sorted out all the door handles that were stored to figure out which ones are for the main engine room doors. He then started fitting them but found that very few of the holes already in the doors lined up with the holes in the handle bosses. After much struggling several were fitted but it decided that the rest would need the holes drilling out somewhat.
Afterwards Kris then helped Jim and Dave fit the traction motor blower flange to the bulkhead by crawling into the very tight space in the cooler group to get spanners on the other end of the bolts. It took quite a while to get round, but the flange was successfully mounted. We then called it a day and put everything away.
The next working weekend is June 2/3 - If you wish to lend a hand please contact Chris Tatton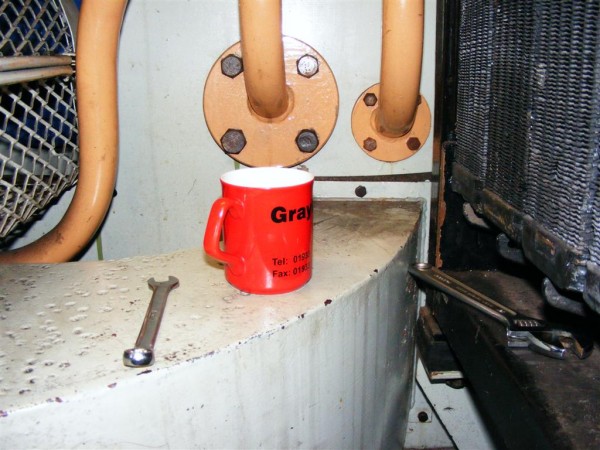 Above : New cooler group bolts (with coffee).

© C15PS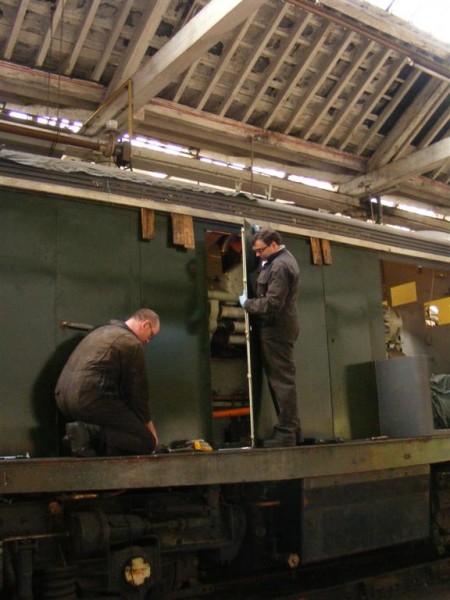 Above : Dave & Jim struggle with door handles....

© C15PS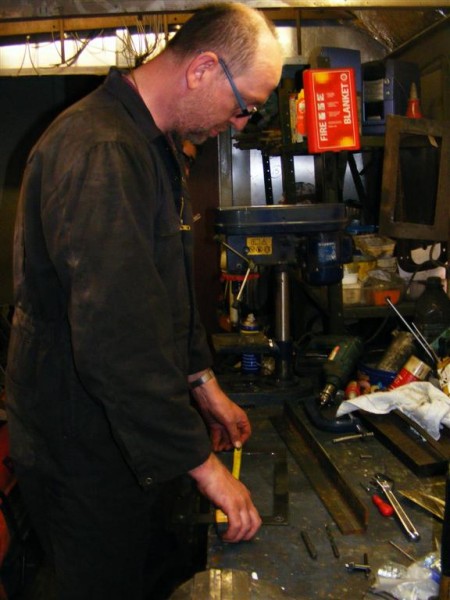 Above : Jim measures bulkhead flange.
© C15PS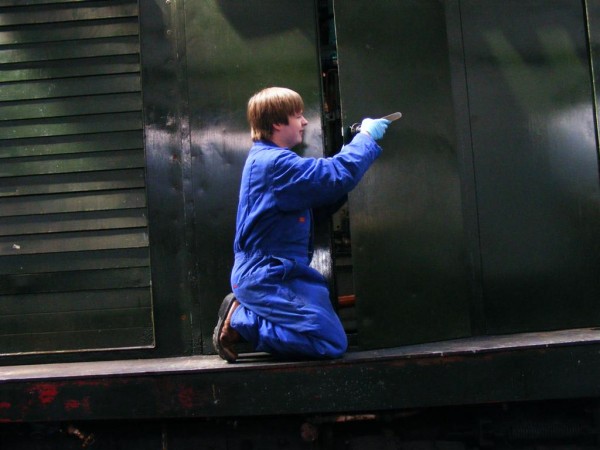 Above : Kris fitting door handles.
© C15PS
Fancy Getting Involved? click on the You Can Help page