25 August 2012
Number of volunteers 5
A group of six assembled another working Saturday along with team leaders Jim and Adam there was David, Graham, Jason and Kris, after a discussion the team split into three groups . Adam and Jason headed north to deal with D9531 and D5705.
Graham and Kris set about welding the brackets for the sanders for D9531, this involved the welding of brackets and supports and fixing of the sanders, previously marked up.
Whilst they carried out this Jim and David set about manufacturing three flanges for the next bit of TMB ducting for D8233 which was to go into small nose of the loco. The first to be cut was the largest of the three pieces. Once cut it was then faced up to the traction motor blower so that the bolt holes could be drilled, when these had carefully been marked, pilot holes were drilled followed by a larger drill for the correct size. Once again this was checked to the traction motor and once happy this was the cleaned of all waste. Although not seeming to take long, lunchtime had arrived and a short break was taken.
After lunch, Graham and Kris, completed the brackets then Jim and Kris discussed how the brackets should be fitted. Whilst this discussion took place Graham and David measured the next two flanges, which were the same size as the piece cut out to create the larger flange. Despite some doubt to the makings Graham had indicated, this were then cut and drilled and test fitted, then the waste was cleaned off.
Then Graham and Kris set about re- drilling the cooler group bolt holes for the door, although not sounding large job it took most of the afternoon as the working area on the locomotive is both small and cramped.
The afternoon was finished by a discussion about consumables required, and a list was provided to Jim to obtain for the next working weekend.
The next working weekend is October 6/7 - If you wish to lend a hand please contact Chris Tatton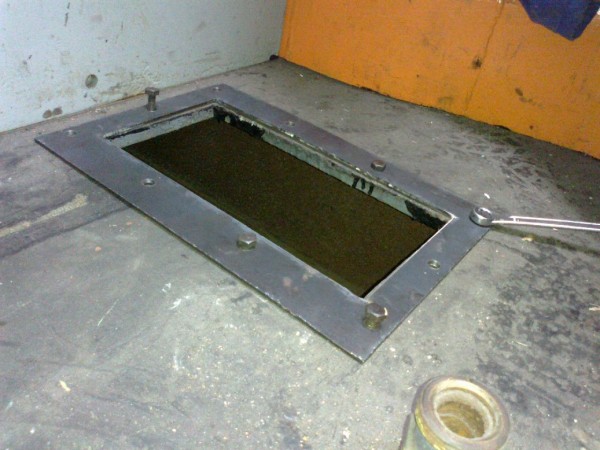 Above : Flange fitted to hole.

© C15PS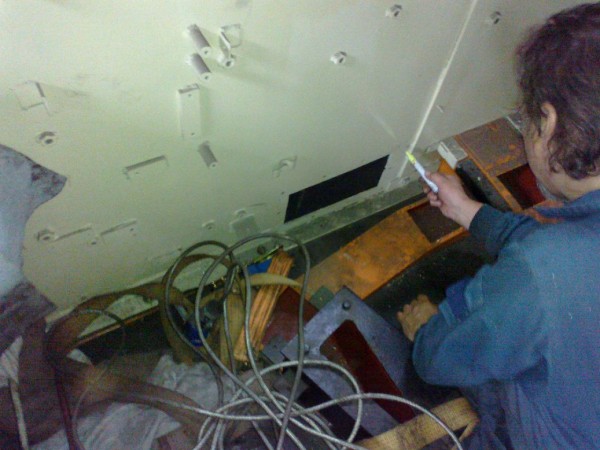 Above : Graham marks up the flange.

© C15PS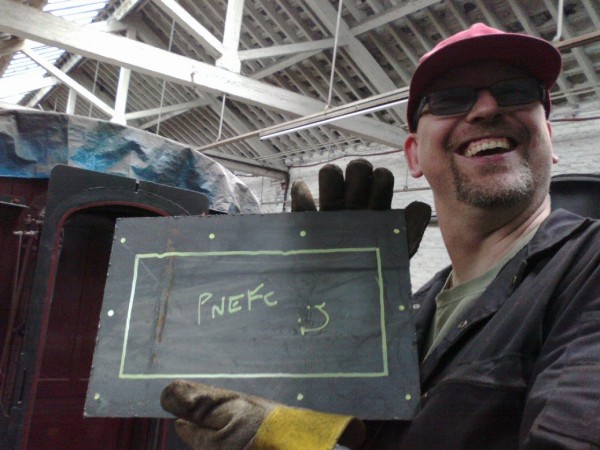 Above : Jim amused at extra markings.
© C15PS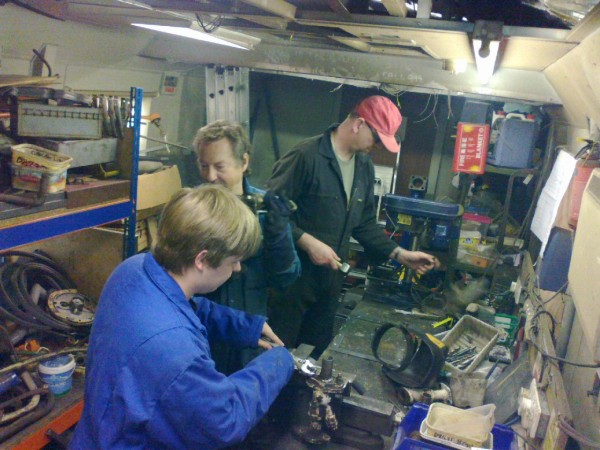 Above : Kris, Graham & Jim at work.
© C15PS
Fancy Getting Involved? click on the You Can Help page