5 January 2013
Dave didn't join us on today's jobs until dinner time due to other OG commitments. Graham was only operating on load 2 due to having carpal tunnel surgery a few weeks prior. The joys of getting old!
The job for the day was to increase the ducting to turn round the main power conduit on the loco. This involved a horizontal 90 degree turn. First of all measurements were taken on the loco to make sure the straight section of the conduit was long enough before the turn was made. A cardboard template was then cut for the upper and lower pieces of the curved conduit section, and these were cut out of sheet steel. The end of the straight section of the conduit was cut back to the right length and the bottom curved section was welded on. When the top section was held in place it was found that there was a gap between the straight section and the curved, so the opportunity was taken to teach Graham the finer parts of bridge welding over a gap.
At this point Dave turned up and he also had a quick lesson too. After both the top and bottom sections were welded in we broke for lunch and discussed ways of making the curved side sections. A piece of cardboard was used to draw the profile of the two pieces and, and the steel sections to be bent were cut from the sheet steel. We the proceeded to C&W to use the bending machines. The rollers worked for the outer section, but the inner section had to be bent on the angle bender doing lots of small bends. Quite a time consuming operation to get it right. These two pieces were then taken back to the coach and welded to the conduit. The tools were then packed away for another day.

If you wish to lend a hand please contact Chris Tatton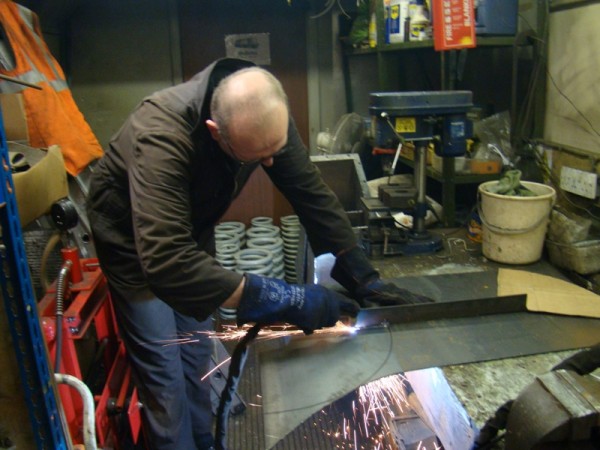 Above : Cutting pieces for the ducting.

© C15PS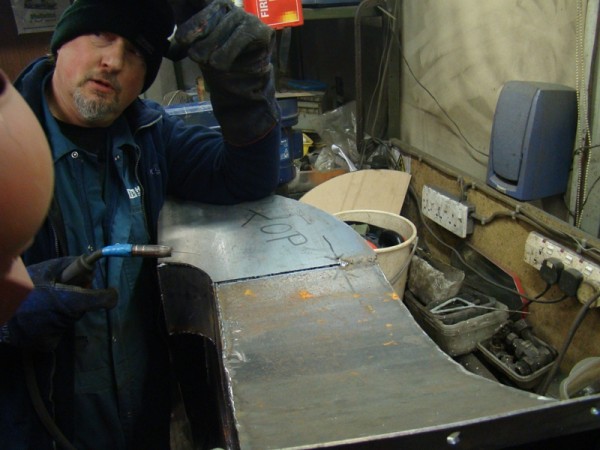 Above : Graham gets instructions into welding big gaps.

© C15PS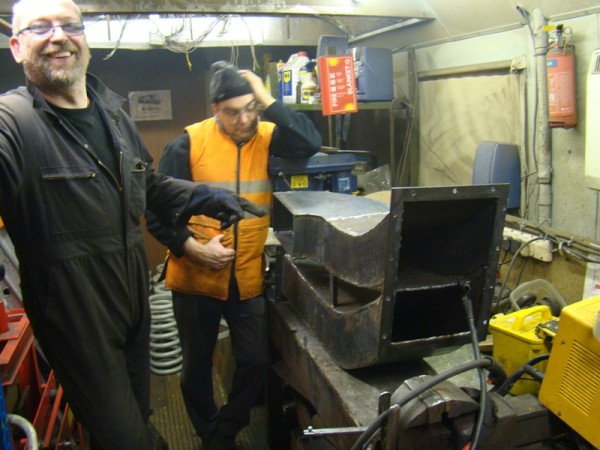 Above : Jim likes the finished article.
© C15PS
Fancy Getting Involved? click on the You Can Help page