14 January 2014
Number of volunteers 2. Jim Gough, Graham Mortimore.
The job for today was to make good the number 3 door on the off side of the loco. This door was in particularly poor condition with severe rust jacking between the door frame and the skin. Some quite bad distortion of the skin itself as well as corrosion requiring a large section of the skin to be replaced.
We decided that the only way to repair it was to cut the frame in two and to remove half of it from the skin. This was easier said than done as some of the welds were in very awkward places to get at requiring considerable time being spent attacking them with a hammer and chisel. Although the door had been shot blasted some years ago that hadn't got to the face of the frame or where it was attached to the skin, so the first job after removing the frame section was to grind the thick rust off to clean metal.
Next we hammered and bent the door skin back into shape the best as we could. After we had completed that task we decided that as the frame was going to be welded back on the best paint to use on the cleaned faces was weldthru primer. We applied this and than left it to dry whilst we had lunch.
After lunch the frame was carefully refitted and welded back on making sure it sat flat against the skin. Then the severely rusted bottom section of the skin was cut off using the plasma cutter. We then carefully measured up and cut a new piece of steel to replace it. After it was welded in place the welds were ground down to neaten up the job. As it was now getting late we decided we'd had enough and packed up the tools and cleaned up the work area.
If you wish to lend a hand please contact Jim Gough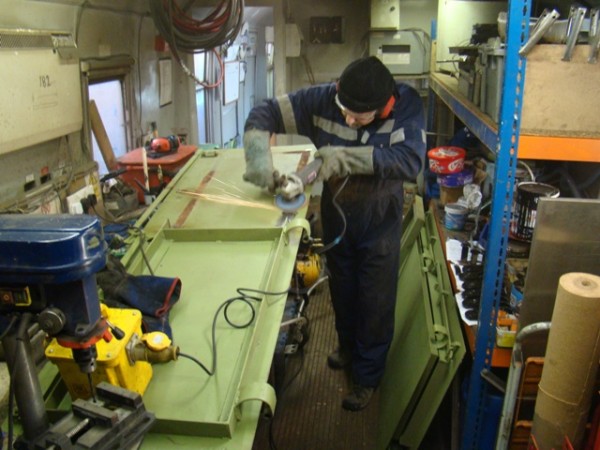 Above : Graham Grinding the door frame.

© C15PS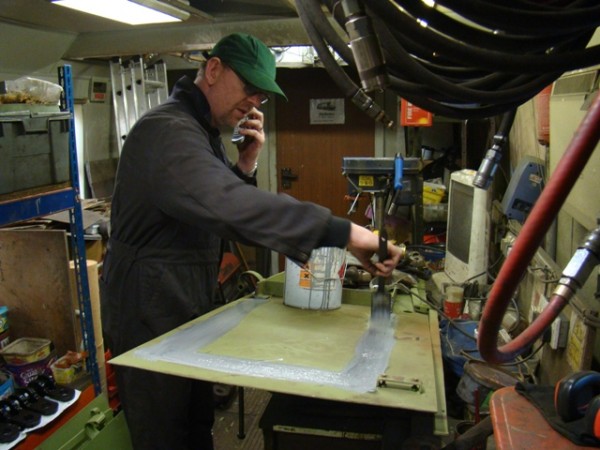 Above : Jim at work.

© C15PS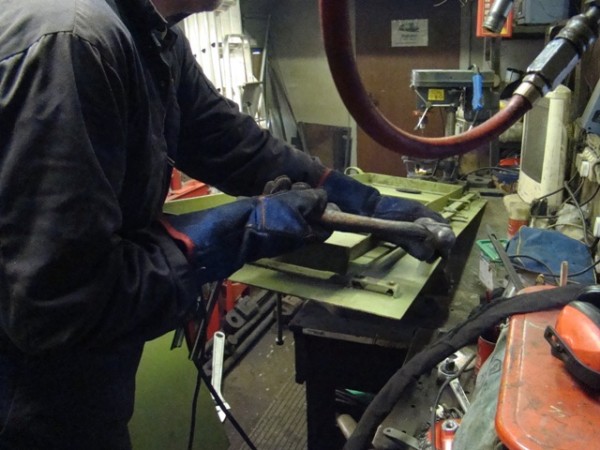 Above : Jim removing the frame.
© C15PS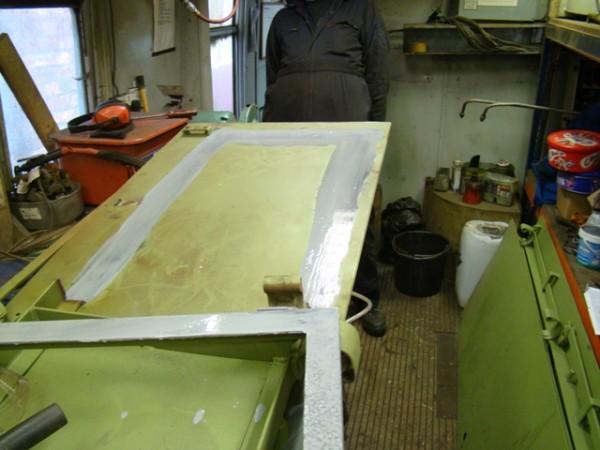 Above : The repaired door.
© C15PS
Fancy Getting Involved? click on the You Can Help page