27-28 September 2014
Saturday 26th
Today saw the following working members present, Jim Gough, Dave Jenkins, Kris Mason, Graham Mortimore, and Jason Lovell
Today's jobs required people to be split up somewhat. Dave Jennings dismantled and cleaned up the several electrical junction boxes and once completed these were painted down in Paddy as the transformation to an additional workshop was complete.
Kris Mason was given the job of preparing and painting the doors that had recently been fitted to D8233 so they can receive a coat of gloss in the near future.
Graham Mortimore and Jim Gough made several brackets to be welded to the footsteps inside the cab. At some point during the production of the loco these steps had had support brackets welded to them and to the floor, effectively bridging the joint between the cab and the floor. When the cab was removed these had to be cut through. The new brackets were welded to the steps, but screwed into the floor with stainless steel bolts so when the cab ever needs to be removed in the future no cutting will be required. Due to the location and nature of what is surrounding this area It was a very fiddly job to complete and took up the day.
Jason Lovell continued with the air tank brackets and applied undercoat paint applied to them before leaving them to dry. The turbo duct that had been cleaned and painted previously a coat of gloss applied and left to dry. The other unrestored air duct and was then cleaned back to bear metal which used 5 wire wheels, which took most of the day once cleaned a coat of the green anti-corrosive primer with the roller and that finished off the day.
Sunday 28 th September
Today saw Jason Lovell in attendance.
Work continued on the turbo ducts, first though the air tank brackets were painted with the final coat of gloss. Then applied a coat of undercoat to the air duct that had been primed the previous afternoon. Then a pair of mounting flange gasket for both of the duct's, were manufactured. One of these was then attached using some spray on contact adhesive, then a search of the bolts was undertaken to identify what new would need to be obtained.
If you wish to lend a hand please contact Rob Mason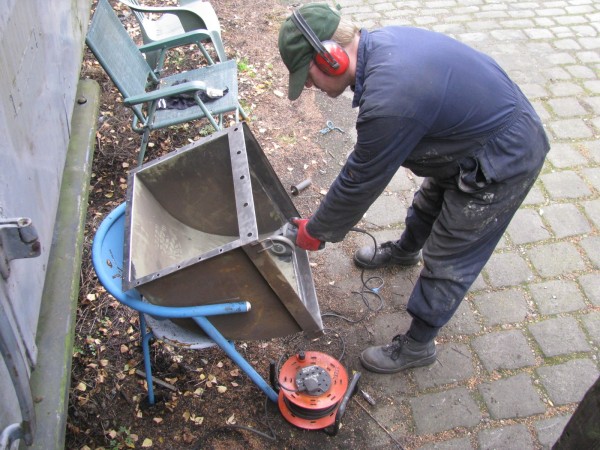 Above : Cleaning the second air-duct back to bare metal.

© C15PS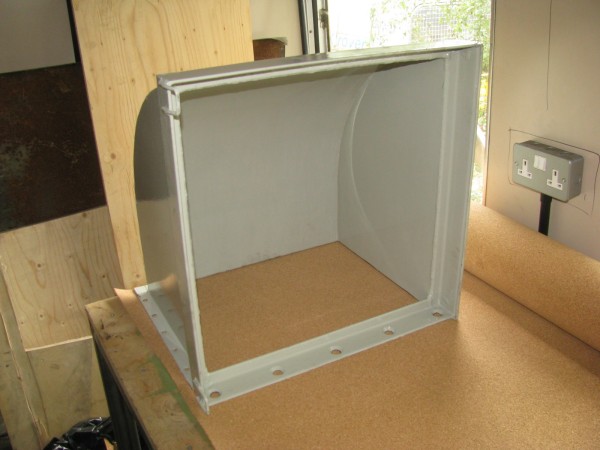 Above : The first air duct after a coat of gloss.
© C15PS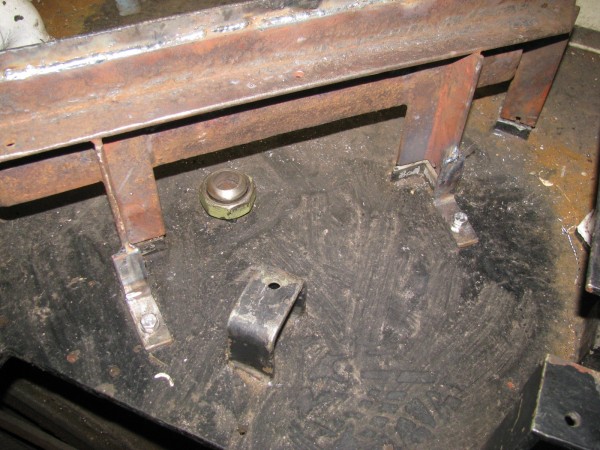 Above : New brackets for the footsteps.

© C15PS
Fancy Getting Involved? click on the You Can Help page